In our latest series, we will be getting to know some of the influential figures that contribute to Access IT Automations growth and development and find out with the company and what IT automation means to them. #WeEnableModern Desktop
Access IT Automation's (AITA) CTO David Halfteck's career in technology started when he was five years old when his dad brought home a Commodore 64, and David started developing computer programs in BASIC! Since that early start, the technology world has become more sophisticated, but David's passion has remained constant.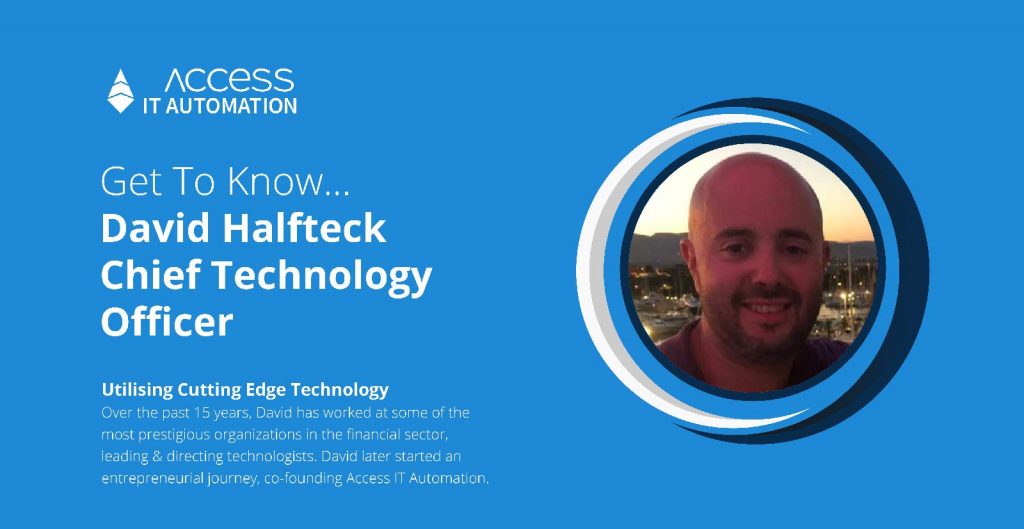 Over the past 15 years, David has worked at some of the largest and most prestigious organizations in the financial sector, as a technologist, as well as leading & directing technologists. In a move to forward his career, David started an entrepreneurial journey, co-founding Access IT Automation. Outside of work, David has an active family life with 3 young children and is also an avid 'petrol-head'.
How can Access Symphony's technical features positively benefit a business?
The goal of Symphony is to provide a platform that enables a business to deliver automation. This has many benefits including fewer helpdesk tickets, desktop stability improvements, driving an improved user's experience. Please read further benefits here: accessitautomation.com/access-symphony.
In addition, the more recent features of Symphony pertain towards "Big Data" capturing many aspects of data such as App Usage, Machine Performance, Migration Readiness/Candidacy, Benchmarking, User Personalisation, Software Inventory, and Performance, helping an IT organisation to paint a picture of the organisation as a whole and supporting large scale IT projects such as user migration journeys.
How do you think AITA's products and services technically separate themselves from the competition?
AITA offers a specialized set of products and services which are tailored to fit the needs of our clients. Other COTS products are notably a one size fits all, whereas we spend time and care sowing our products into the fabric of an organization. When we work with a client to deliver a product, we work very closely with the client so that they understand the products end-to-end and can hit the ground running.
What new features do you think will interest/help people?
I think that Windows 365 and AVD are going to become very popular soon. I am particularly pleased with how our products integrate and the compatibility with these platforms. These aspects of our products, particularly Capture and Symphony will add significant value.
What industry challenges do you think that Access Symphony solves?
We hear year on year that technology departments need to reduce headcount, and they look for areas where manual processes can be replaced with automation. This is where Symphony adds value, by offering the framework for general purpose automation.
How does using the full spectrum of AITA products cover a broader spectrum of IT issues?
Access Capture and Access Symphony both relate to IT automation, however, they cover 2 distinct parts, with Capture dedicated to automation of software packaging and testing, and Symphony covering automation on a much broader basis.
What drove you to develop Access Symphony?
It's been a common pattern throughout my career that organizations have the same need, which is how to carry out automation of processes on the desktop, and how to deliver automation so that it is secure and scalable. I felt there was a gap in the market, and the functionality that I developed in Symphony fills the gap.
What have customers said about Access Symphony (or all the Access products) regarding their technical capabilities and implementation?
Customers have said that with Symphony they've seen a real drop in helpdesk tickets, and tremendous EUX improvements to their target environment. In terms of implementation, at the last client, we were working with their internal IT department, even before the deal was finalized, ensuring they were infrastructure ready for our products to be installed, and they were delighted when the install took less than 2 weeks to complete.
What is involved with installing Access Symphony for an enterprise? (Or any other Access product).
We work with the client to install Symphony end-to-end. Like the product itself, Symphony is not a one-size-fits-all. We offer many different install solutions, such as on-prem setups using SQL Server and IIS to MS Azure using various PaaS or IaaS components.
What do you have planned for the next 6 – 12 months for AITA products? (Potentially just Symphony).
We're currently working on a new product called Access Insights which is a Data Visualization platform targeted to key projects within an IT organisation such as user migrations or for ongoing BAU needs such as performance and EUX monitoring.