For many, the next 12-24 months mark an important milestone for their application packaging and testing strategy as they move from traditional, manually-driven application packaging to a more automated and continuous process to satisfy the demands of their faster-than-ever evolving IT environment.
Now that most Windows 10 migrations are well under way or completed, many enterprises are turning their attention to creating a (hopefully) repeatable, automated, and scalable Windows-as-a-Service management process. To do so successfully, enterprises are recognizing that app testing, certification, and packaging must fit into their larger Evergreen IT environment, must be automated, and must include a modernization strategy to MSIx.
Today, I want to take a closer look at each of those three trends in more detail.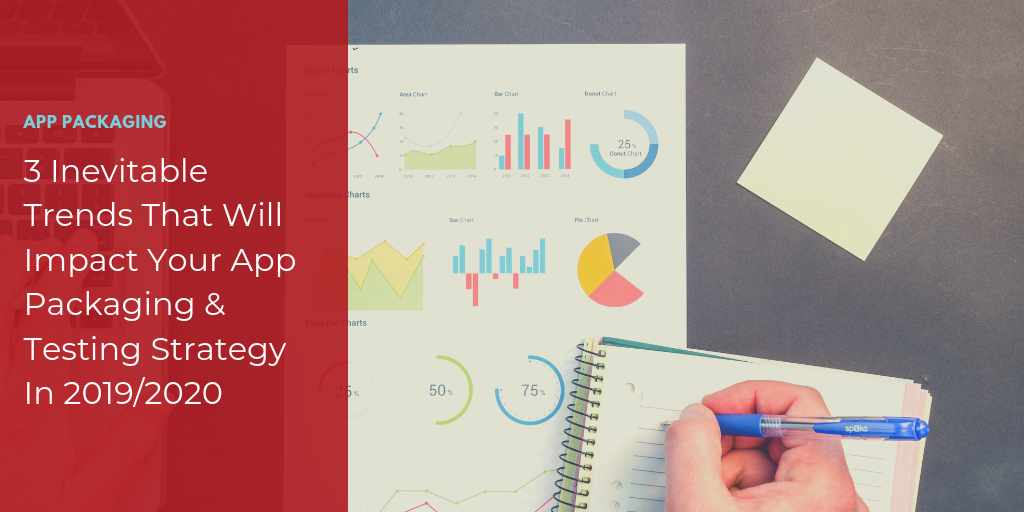 1. App Packaging & Testing Becomes A Part Of Your Broader Evergreen IT Strategy
Upgrading to the latest version of Office 365 ProPlus and Windows-as-a-Service every six to twelve months still poses serious challenges for larger organizations. Historically, such an upgrade process required organizations to constantly ensure the compatibility of their applications with full-blown testing, which was a time-consuming and labor-intensive process.
Today, a simple certification check can quickly verify application compatibility and establish which applications may require additional remediation from application developers or vendors. For example, the new structure of the Start Menu is one of the most significant differences in Windows 10. This change requires the application positions in the Start Menu to be adjusted to match the new naming standards.
[For a step-by-step process description, please check out our article Application Packaging In An Evergreen IT Context.]
2. Automating IT Infrastructure & Ops Will Be Inevitable — With Testing Being The Main Driver
"The ground is shifting for IT infrastructure and operations," Gartner points out in its description for its upcoming IT Infrastructure, Operations & Cloud Strategies conference. As enterprises implement new technologies faster than they can take advantage of them, IT teams find themselves spread too thin. To keep up with this pace, companies will need to automate most of their IT processes. One of the most resource intense is app packaging and testing.
The workflow of application packaging generally consists of distinct phases that include initial discovery, various types of testing, and packaging. By using cutting-edge packaging solutions, like Access Capture, the manual effort, resources, and cost involved are greatly reduced as they automate about 65-80% of this process. The remaining 20-35% require some manual input (e.g., manual re-packaging of a few niche business apps), but can be fed back into the automated workflow once the manual step is completed.
In addition, they are much more accessible to non-technical users by using wizard-driven UIs to allow these users to package their own applications. Users should also be able to automate document creation, which is one of the more time-consuming packaging tasks. These capabilities can typically reduce the time needed to create packages from days to minutes.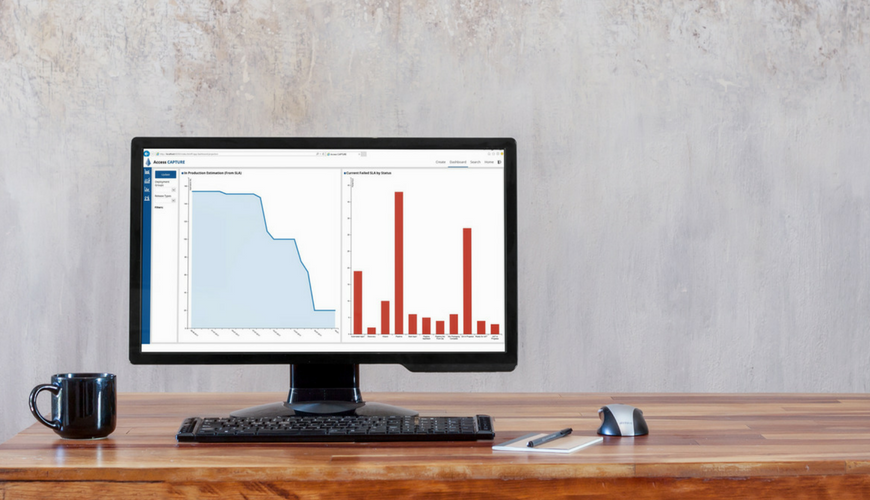 Packaging solutions can automatically fix many minor problems to create the robust files software packages require. Packaged files should be approved by appropriate organizations such as Microsoft and VMWare to ensure they can be trusted. This software should also have extensive testing capabilities, including acceptance testing, experience testing and fully automated testing. Complete logging support provides users with the data they need to obtain operational insights into their projects.
Lastly, packaging software to be used in an Evergreen IT context needs to ensure scalability by using Virtual Desktop Infrastructure (VDI) to quickly rebuild machines to a clean state. This guarantees that an organization always has an adequate supply of functioning machines as its needs grow.
3. MSIx
In 2019/2020, MSIx will become an increasingly common method for creating application packages for Windows systems as Microsoft enables users to easily repackage their existing Win32 applications into the MSIx format.
It includes both a graphic user interface (GUI) and command line interface (CLI), allowing users with a range of technical skills to convert applications without source code. MSIx is designed to allow IT professionals to package and manage their existing applications more effectively. Developers can run their installers through MSIx to create packages they can install on their machines.
Users launch MSI and select the Application Package icon to convert packages in formats such as App-V 5.x, exe and msi into MSIx. They can also select the Modification Package icon to modify an existing MSIx package. Users view and edit the contents of a package by selecting the Open Package Editor tab, locating the desired MSIx package in the browser and selecting the Open Package icon.
The current version of MSIx as of January 2019 is v1.2019.110.0. The most significant changes in this version include faster packaging times and an updated exclusion list for default files. The logs have also been updated to provide greater clarity for troubleshooting, and error messages have been incorporated into reporting tools.
Additional changes to the latest version of MSIx include support for using PowerShell scripts in the GUI and CLI. MSIx now supports installing from PowerShell ISE with manual packaging. Major fixes include successful validation of Store versioning requirements when using the CLI. The latest MSIx package editor also adds files to packages correctly.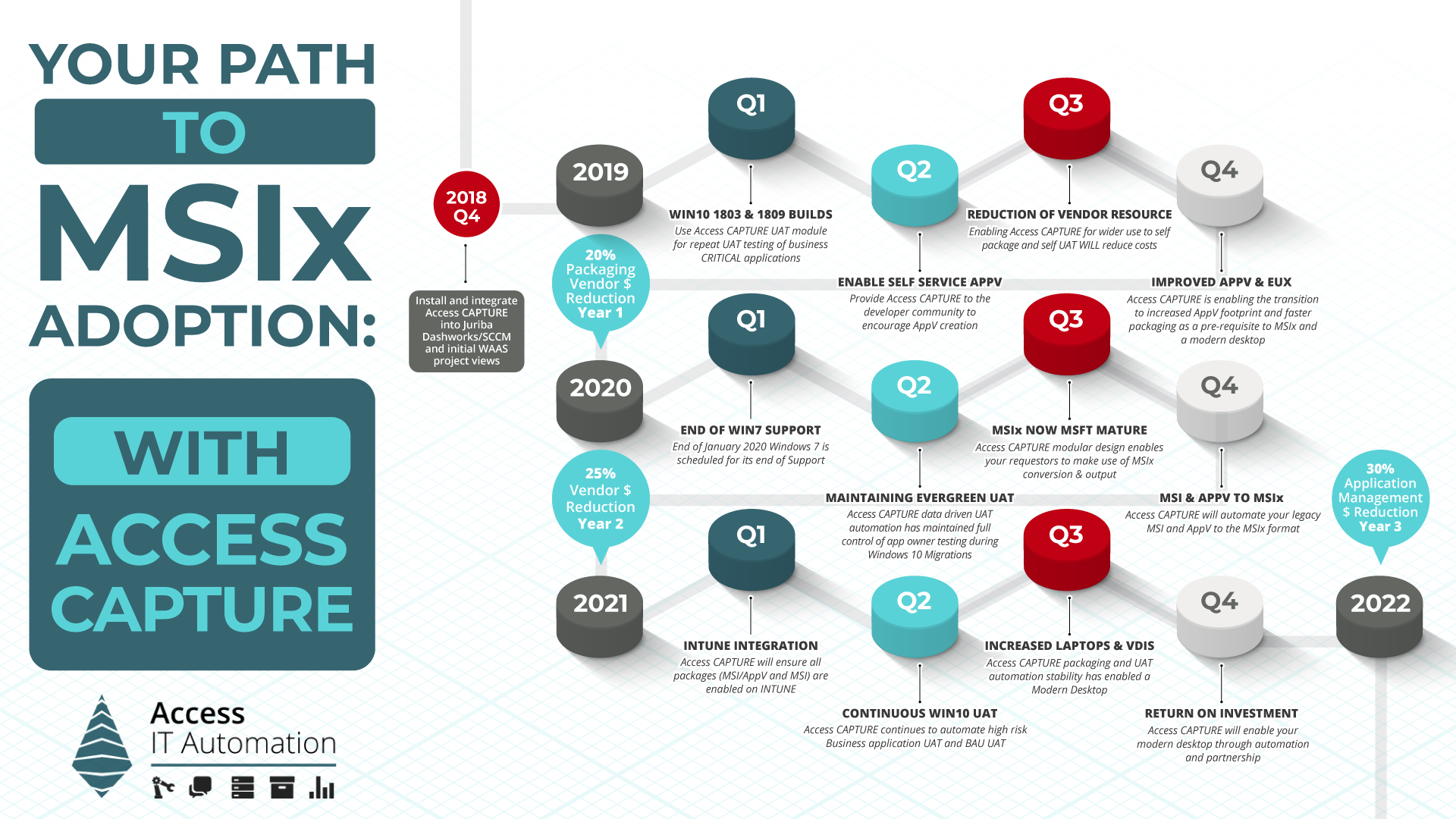 [For advice on how to adopt MSIx in an enterprise, check out our MSIx adoption roadmap.]
Conclusion
As larger organizations are continuing to drive their Digital Transformation initiatives forward, IT must increase its dexterity, agility, and flexibility — while significantly reducing technical debts, eliminating potential security flaws, and minimizing eventual business disruptions.
To achieve this, organizations must embrace (and fully take advantage of) Evergreen IT management, modernize and automate IT processes (including application testing and packaging) wherever possible, and keep current with app packaging standards. While MSIx isn't ready for wide enterprise deployment yet, IT organizations should start evaluating and testing the new packaging format as the popularity of MSIx as a means of creating Windows packages will continue to increase due to its ease of use.