By now, most enterprises are using some form of IT Automation to create repeatable processes that minimize or avoid human interaction with IT systems with the goal of realizing potential cost reductions, process improvements, and efficiency gains.
However, almost always, IT automation is done in bits and pieces — without a central repository or the ability to manage them. As a result, enterprises often have dozens of unused or underutilized agents which, of course, then hinders the organization in achieving their automation goals.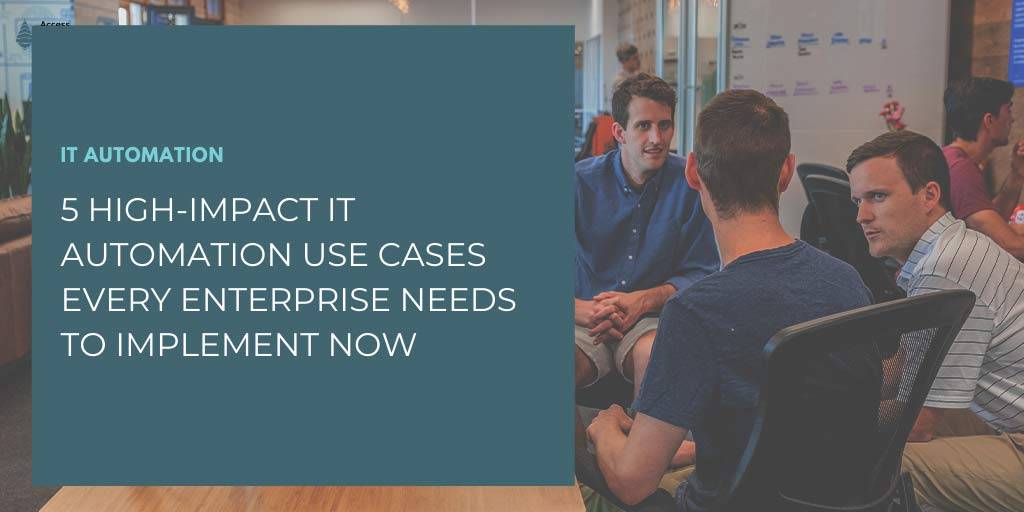 We often get asked where IT automation would have the biggest impact in an organization, and while the answer depends on your unique situation, there are five scenarios in which almost every large company can achieve outstanding results:
Significantly Reducing Incoming Help Desk L1 And L2 Tickets
One of the easiest and most impactful ways to utilize IT automation is to implement it with the goal of reducing the number of support tickets that hit your help desk. The majority of L1 tickets and a large number of more expensive L2 tickets could be avoided by applying fixes proactively. The creation of many tickets can even be avoided completely by offering end users the ability to fix issues themselves using self service.
For one of our clients, this resulted in hard saves over an 18-month period of $1.7 million as they avoided 60% of their support tickets from ever having to be created!
Monitoring And Notifications Of Desktop Issues
The second way to create a lot of impact is by being able to monitor your environment and send real-time notifications regarding desktop issues or resolutions. Knowing what is going on, through active listening and being able to act right away, is essential to managing an agile, Evergreen IT estate. This can be accomplished by monitoring and responding to the following triggers:
Machine or Operating System triggers, e.g., to identify errors, warnings or information events from Windows and custom event logs
Process triggers, e.g., to process monitoring capturing resource threshold breaches
Remote triggers, e.g., based on encrypted messages received over a TCP channel
Time-based or state triggers, e.g., when the service starts or stops or on machine shutdown
User and interactive triggers, e.g., when a user logs in, logs out, locks or unlocks their Windows session
Monitoring triggers, e.g., when an alarm is received from SysTrack, Aternity, or UberAgent
One of our clients sent more than 275,000 real-time notifications to end users in the past 18 months informing them of issues, the availability of fixes that can be applied by them or have been applied by IT, and much more.
Apply Fixes Proactively Or Re-actively
Once you know what is going on, you need a way to react quickly. For some scenarios, you can apply fixes proactively. For example, when an Outlook problem surfaces on a Monday morning as the first users report issues back, you can find all machines with the impacted configuration and apply a fix that will be executed in the background as users boot up their machines. They will never know there would have been an issue! You have prevented delays in getting started as well as support getting clogged with the same issues from hundreds if not thousands of people.
Other issues require a reactive approach, as in the case, for example, of a security vulnerability being detected. One of our clients ran over 380 million automation sequences (add-ins) and executed 70 fixes in their repository almost 100,000 times in 2019 alone.
Allow Your End Users To Fix Their IT Issues
While proactively and re-actively applying fixes to your environment helps to significantly reduce the amount of support tickets created, end users will still run into issues. However, calling IT isn't their preferred way of dealing with problems. In fact, one survey shows that end users would rather clean toilets than call IT.
Rather than being upset about it, see it as an opportunity. When you allow your end users to use self-service to fix their issues by first diagnosing the issue and then applying the suggested fixes, you not only get happier end users (and the obvious cost reductions), but also employees that are invested in their device's health and performance.
One of our clients was able to avoid 60,000 tickets (that is 60% of their 100,000 avoided tickets) this way!
Offline Fixes To Enable/Help Remote Workers
There is nothing more frustrating than being out in the field with little to no connectivity and running into an IT issue. Field calls are expensive, and having to reschedule a client appointment because a remote worker has to come back to head quarters to get their IT issue fixed is not only costly, but also very frustrating from a user experience perspective.
If your organization has a lot of remote employees, providing them with a repository of offline fixes can allow them to quickly repair the most common issues and carry on with their day!
How Can You Realize These Scenarios?
All of the use cases mentioned above can be achieved with Access Agent. Although Access Agent started out as an agent, we soon realized that, because of its extreme versatility while being centralized, it adds much more value to our clients as a centralized automation framework.
Access Agent comes preloaded with specific algorithms and automation logic (called Agent Add-ins). The three most commonly used ones are:
Help & Chat guides users through a step-by-step support & issue resolution.
Access Fix Engine allows you to hold all of your fixes in a central repository and run them on-demand with the click of a button.
Access Notifications assists with real-time-notifications, messaging, and fixes to be pushed to users & desktops.
Because this might seem a bit abstract, we are going to host a webinar on February 12th, 2020 where we will walk you through each of these use cases in much greater detail, and show you how you can achieve the same in your organization!