Over the past few years, Access IT Automation has continuously invested in the enablement of Microsoft technologies: Azure, MSIX, and Windows Virtual Desktop. A great example of this is our ongoing MSIX and Windows Virtual Desktop TAP (Technology Adoption Program) partnership with Microsoft. To further cement this partnership, Access is thrilled to announce that its application suitability tool, AppScan, is now hosted on the Microsoft Azure Marketplace.
Today, I want to walk you through the benefits of Access AppScan on the Microsoft Azure Marketplace, and highlight what this means for you, an Access client or an enterprise evaluating suitability testing and automated application packaging and testing tooling, as you move to modern application management.
Check out our Azure listing here: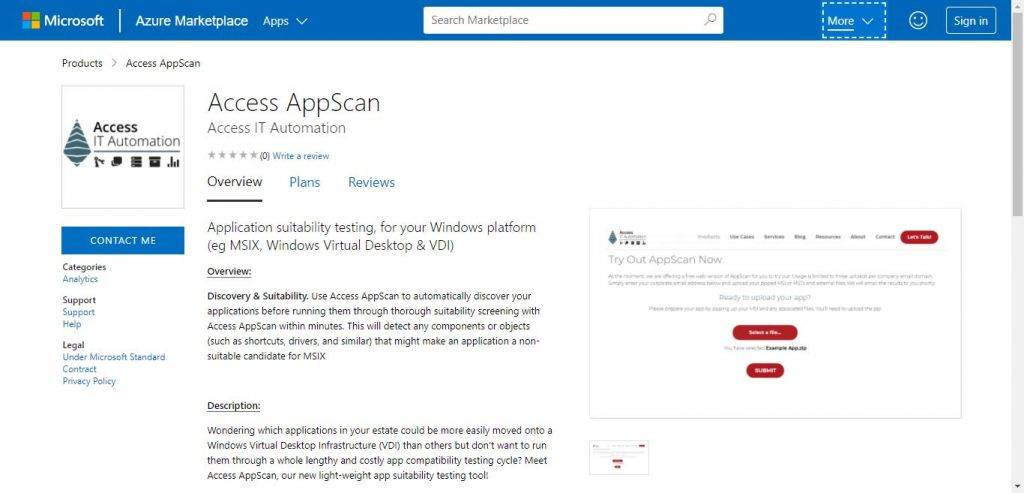 Access AppScan — Suitability Testing To Enable Your Modern Application Management Journey
Successful Modern Application Management involves a well-defined end-to-end process that includes the following three steps:
Discovery & Suitability Testing – Simplify your application discovery and suitability testing to determine which apps are suitable MSIX candidates for Windows Virtual Desktop (WVD) using Access AppScan & Access Capture Discovery module.
Creation & Digital Signatures – Automatically create or convert apps into MSIX, app attach Virtual Hard Disk (VHD), and CimFS format and digitally sign them. In addition, centrally manage your digital signatures.
Testing & Performance Tracking – Once it is signed, Access Capture installs your app as an MSIX or app attach container inside a Windows Virtual Desktop to ensure it works as expected, and even tracks its performance.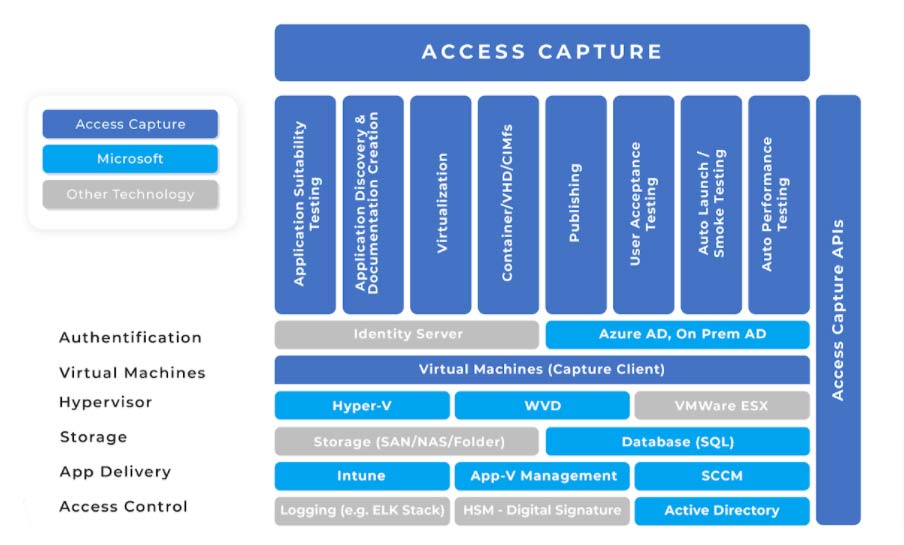 Because every single enterprises's application portfolio, hygiene habits, and management practices are different, IT leadership has to carefully define their individual Modern Application Management strategy. With Access AppScan hosted on the Azure Marketplace, Microsoft customers looking to move to Windows Virtual Desktop can easily, quickly (within minutes), and cost-effectively assess which of their applications can be turned into an MSIX and which applications might encounter common blockers — such as boot time services, drivers, and shortcuts — that would prevent them from converting.
AppScan helps organizations make this assessment by allowing them to test thousands of applications quickly to evaluate whether or not their environment is good enough to move forward with Windows Virtual Desktop, or give them indications as to what must happen before they can further invest. It also gives them a detailed picture of how many users are able to use these applications and which main areas would be responsible for breaking an application, not allowing it to move onto Windows Virtual Desktop and therefore to MSIX/app attach. In other words, Access AppScan gives you that high-level view of what is possible and what is absolutely not possible (in my opinion, this is key!) in order to define your Modern Application Management strategy.
The benefit of hosting Access AppScan on the Azure Marketplace is that you, as an organization, don't have to worry about hosting any costly infrastructure or installing anything on-premise. You simply send your applications to a blob of storage in Azure — in a completely secure, containerized, isolated environment.
It is also important to note that in order to be hosted on the Microsoft Azure Marketplace, every product has to first undergo a rigorous step-by-step approval process by the Microsoft product team.




Conclusion
Hosting Access AppScan on the Microsoft Azure Marketplace is an important milestone for us and our customers. However, it is only the first step on this journey we will be taking over the coming months because we are looking to host Access Capture — our automated application packaging and testing tool — on the Azure Marketplace as well, which will in turn enable our customers to get their applications ready, create objects into Intune directly, and deploy them onto Windows Virtual Desktop or Azure hosted instances.
The reactions from our customers regarding the Azure listings have been great. If you have any comments or questions, we would love to chat.