If you have been thinking about scheduling your Access Agent demo and seeing our endpoint management automation tool in action, you probably have a million questions. While some of those probably pertain to your company's unique situation, a lot of questions are asked by almost everyone whom we give a product demo for.
These are very important and they have to be answered, but we feel your time with us is much better spent talking about your special concerns, so we answered the most frequently asked generic questions today so you don't have to ask them.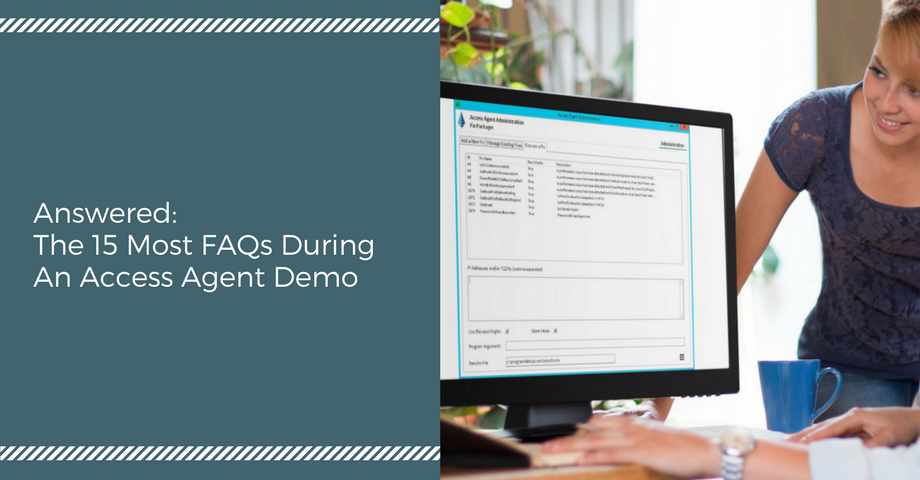 So, without further ado, here we go:
What Exactly Is Access Agent?
Access Agent is the enterprise automation solution designed with productivity-driven enterprise IT help desk managers in mind who need to reduce the number of incoming IT tickets and minimize the turnaround-time per ticket significantly. Access Agent automates the management of any IT-related issues and fixes because of its:
Pure automation on desktops, terminals, and thin clients
Ability to communicate to single targeted or thousands of endpoints with one click
Growing repository of standard fixes and your custom fixes (knowledge base)
Proactive and reactive issue resolution
Automated self-help to fix issue and creation of ticket if problem wasn't resolved
Real-time push notifications, drop sheets and user sign offs (training & UAT)
It can support a variety of conditions, such as user logon events, a supportive Windows Event log entry event or a change to a file on disk. If a trigger is activated, Access Agent can carry out a predetermined action (e.g., a Powersell fix script) automatically or raise an alarm notification.
It can also be used proactively to ring-fence any IT issues before they become a company-wide problem, improve endpoint health and performance over time, and much more. 
What Is Included Out-Of-The-Box?
There are three out-of-the-box core components that make up the Access Agent product:
Fix Engine
Notification panel for end user self-service, and the

Help desk tool, a wizard-like tool that is used to guide your end user

 through a workflow which can either lead to tickets being raised or 

fixes being executed.
Other solutions can be added, for example an integration of your knowledge bank into the help desk tool.
How Long Is The Installation Process?
Access Agent can be deployed very quickly. For example, deploying the tool on premises will require only a few days of work to set up the servers and to make sure that the environment is ready and the client application is installed on all endpoints. 
What Type Of Organization C
an Get The Most Out Of Access Agent?
Because of its proven enterprise-level security and scalability, any large to enterprise-size organization will see tremendous benefit from the type of endpoint automation that Access Agent offers. This includes government agencies, large financial service institutions and banks, healthcare organizations, and many more.
The biggest benefit can probably be realized by organizations with remote IT support for a widely distributed workforce. For example, our parent company, Access PLC, has offices in four locations worldwide but we don't have staff for most locations to deal with issues because we use Access Agent to deploy fixes. 
How Scalable Is Access Agent? What Is Your Biggest Deployment?
It is very scalable and can easily be scaled out — so the bigger the better! Access Agent is proven to work on extremely large environments. The biggest deployment was over 100,000 endpoints with several thousand fixes executed per day concurrently. 
How Secure Is Access Agent?
We are very proud of the level of proven enterprise-level security measures that Agent Access is equipped with. For example, the tool uses several layers of security, such as SSL and hash checks, on the fixed files. Before a fix can be executed, Agent carries out several stage checks. 
But don't take our word for it! Access Agent is G Cloud 9 approved, UK gov't. digital service approved, and Windows 10 ready/approved. Even the advanced penetration testing of an independent Swiss bank — one of the toughest security checks available — could not identify any security issues.
Can It Help With Cybersecurity Vulnerabilities Such As Spectre and Meltdown?
Because most cybersecurity vulnerabilities exploit the endpoint, an IT automation tool such as Access Agent, can be extremely useful for scenarios like a Spectre or Meltdown-related attack as well as for any other application security related issues. You can use it to proactively scan your environment for potential candidates and roll out fixes to them before anything happens or you can add a notification on their notification panel alerting them of a new threat.
You can run a fix with elevated rights on the user's device. As a user, you have flexibility to decide exactly what kind of process you're rolling out. That leads to pretty much any type of security related concern that can be addressed. The possibilities are endless.
What Are The Infrastructure Requirements? Does Agent Work Only On-Premise Or In The Cloud?
Access Agent requires very little in terms of infrastructure. It simply needs a web service on which the fix engine can reside (e.g., Azure) and a database (e.g., SQL database).
Because of those minimal infrastructure requirements, Access Agent can work both on-premise and in the cloud. While the tool is an agent that needs to be installed on every to-be-managed endpoint, it can leverage all kinds of cloud infrastructure as the back end logic. The engine behind the fix engine can reside in Azure or other cloud services if required. Equally, you can run it on-premise.
Can You Use IT To Manage Non-Microsoft Related Technologies?
Yes, while a lot of our customers deploy Access Agent to work within their Windows environments, it can be just as easily used with other technologies or applications. For example, if you choose to patch an issue in Oracle, there's no technical reason why Agent can't be deployed in that environment.
However, the client-side endpoint does need to be Windows 7, Windows 8/8.1, or Windows 10 in any edition (e.g., Windows Servers, Windows Client, Windows Terminal, or Windows Embedded).
Does Access Agent Integrate Into Microsoft SCCM?
Yes, Access Agent can integrate with Microsoft System Center Configuration Manager (SCCM) easily. The most common scenario in which our clients use the SCCM integration is to execute fixes throughout their environment.
In addition, the tool also can be integrated with Microsoft Active Directory, ServiceNow, SysTrack, and other technologies that allow API integration.
Where Do The Fixes Come From? And Where Are They Stored?
Access Agent can be triggered to apply all kinds of fix scripts to single end points or across different locations, groups of devices, or even your entire estate. These fixes are either PowerShell scripts you write yourself and store within Access or you can leverage one of the over 30 pre-built fixes that are baked into the tool already. 
Regardless of their origin, they are stored in an SQL server database that you manage internally, so you can build an entire repository of fixes over time. 
Does Access Agent Offer Different 
User Levels?
Yes, you can choose between multiple roles, e.g., packaging, execution, and so on. As an admin deploying a fix, you can also choose to do so using elevated admin rights or basic user rights, as well as choose whether you would like to execute it in silent mode without user interactions or with the end user's involvement. 
How Can Access Agent Be Used Proactively?
A lot of the scenarios we talked about were reactive, but you can also use Access Agent to proactively do something. For example, let's say we don't want any application using too much memory capacity. Now we can configure Agent to raise an alarm if any app exceeds the pre-set threshold of two gigabytes of RAM. That alarm would be able to trigger a pre-defined fix to be executed.
Since users often don't want to be bothered with IT issues (or would ignore them until something breaks, slowing down their productivity significantly in the process), this is a great way to keep things running smoothly without the user becoming aware of any issues.
How Is Access Agent Licensed?
Since there are so many variables and customizations possible, one size definitely does not fit all. Therefore, our licensing terms are flexible and depend on your unique situation and need. Usually, they are either on a per seat basis or a perpetual license (any number of seats). In addition, there is an added maintenance cost.
How Is Support Handled?
In the beginning of each engagement, we always build in an extended support window. Our Support Service Level Agreements are very flexible and dependent on the customer's needs and size. For example, while a global financial service institution or a government agency might require a 30-minute turn-around on mission-critical issues, a medium-size manufacturing company might opt for a lower level support and can expect a turn-around on support tickets within one business day.
Should an issue arise, our customers can log on to our online support help desk and create a ticket. This automatically triggers an email to a team of experienced support engineers that will start looking into the issue right away. If necessary, the problem can escalate to the responsible Access Agent product manager.
Do you have a special question you would like to ask before scheduling your demo? Drop us a line in the comments and we'll make sure to get back to you as soon as possible.