The term "Evergreen IT" has been around for some years. It has been defined multiple times in many different ways, but when talking to enterprise IT organizations around the world, more often than not, IT managers and executives complain that they still don't really understand what it means.
Today, I want to kick off a small series of blog articles that tackles the basics of Evergreen IT by defining the term in the simplest way possible (and in less than 100 words!) before taking it apart and going through the details.
Definition Of Evergreen IT
"Evergreen IT is a modern IT management approach that emphasizes making small, iterative updates to an organization's IT landscape (including desktop hardware, operating systems, products, applications, and server infrastructure) on an ongoing basis rather than undertaking isolated big bang migrations.
It shifts the focus from "Keeping The Lights On" to driving Digital Transformation — making an organization more agile, competitive, and secure as the IT estate is always up-to-date and compliant.
To be successful, Evergreen IT requires tighter lifecycle management, executive buy-in, continuous budget, and a rethinking of internal processes, people, and technology."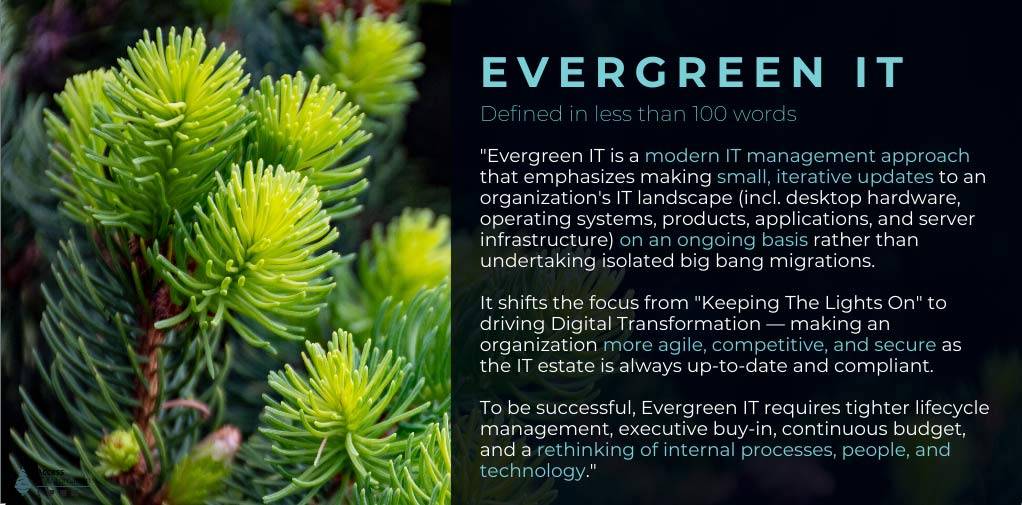 Let's pick that definition apart.
Continuous Improvements Rather Than Big Bang Transformations
The main difference between traditional big bang IT migrations and modern Evergreen IT management is how often upgrades and improvements are made to an IT environment.
In the past, we have planned larger projects around an OS upgrade (e.g., moving from Windows XP to Windows 7), a hardware refresh, or an infrastructure upgrade. As per the definition of the term project, they had a defined start and end date, an earmarked budget, and an assigned project team. On average, they were meant to run for 24-36 months but usually they took much longer, went over budget, and were very frustrating to deal with.
Evergreen IT, like cloud-based apps or as-a-Service products, strives to constantly improve by upgrading weekly, monthly, bi-annually, or yearly — whichever is appropriate. For example, Windows-as-a-Service will require monthly security updates and one or two (depending on your upgrade strategy) feature upgrades a year. An app like Bloomberg will receive updates every month or so.
Smaller, Iterative Upgrades
If upgrades are delivered continuously, it is only logical that the updates themselves must be much smaller and iterative.
Let's put that into perspective for a minute: Windows 7 Enterprise Edition (64-bit) required a minimum 20GB of hard drive space. The Windows 10 19H2 update requires no more than 3.5GB of disk space, but if you have the latest cumulative update (1903) installed and are using the enablement feature, the upgrade is less than 180 kilobytes!!!
Because change happens all the time and much faster, compatibility issues are usually much less significant, the learning curve is less steep (resulting in much faster user adoption), and the employee experience is better. Instead of ignoring or trying to block an upgrade, end users will start to anticipate and look forward to an upgrade.
Shifting From "Keeping The Lights On" To Digital Transformation
Currently, nearly every organization in each industry and competitive niche is undergoing Digital Transformation — changing the way they operate with the goal of delivering a better experience and therefore more value to their customers by integrating digital technology. This is an ongoing process that requires organizations to continuously push the boundaries and move beyond their existing comfort zones. This happens mainly through innovation, digitization of assets, and an increased use of technology.
However, many organizations struggle to keep pace. Their IT organizations spend 60-80% of their budget on maintaining status quo ("Keeping the Lights On"), and with IT Transformation projects taking 3-5 years, the customer requirements will have changed many times over before the first defined change would have been implemented. Consequently, IT must become much leaner and more agile to be able to react faster to change.
Evergreen IT Requires Internal Change To Be Successful
No big change can be implemented across an organization without a change of mindset. To help you start thinking about it that way, it is helpful to view Evergreen IT as a process change more than a technology change.
Internal processes and policies related to purchasing, approval, and so on will need to be reviewed, optimized, and automated wherever possible. For example, hardware should be purchased as it nears the end of its life in a tightly managed, continuous cycle. As soon as a device is close to the end of its lifecycle, an email could be triggered informing the user of this and giving him or her three pre-approved options to choose from. Once the user chooses a new device, a purchasing approval is sent automatically to the manager. This process can be largely automated even until the point the user logs on for the first time and verifies that everything is in working order.
The second key to success is people. Before, organizations had a core project management team and then hired an army of consultants on a per project basis to manage larger migration projects. Now, we have to manage continuous change — like a never-ending chain of tiny mini-projects. If done right, we can reduce the number of resources it takes to manage Evergreen IT significantly compared to the number of people involved in the project. However, we have to internally decide in which group they will be placed.
Thirdly, we will need technology to manage it all. Besides a central command and control center that holds all the estate data and provides us with a single pane of glass, we will need to automate our IT management processes, such as application packaging and testing, app performance testing, user acceptance testing and much more. This is where Access Capture can help. In addition, an IT automation framework, such as Access Agent, that lets you proactively and retroactively apply fixes, and provides self-service capabilities and other Evergreen IT functionality, will allow you to manage your estate on an ongoing basis.
Last, but not least, to do Evergreen IT successfully, you will need to get your executive management on board and fully bought in. Without their support, internal change cannot happen. Also, once they are bought in, it is easy to see why an ongoing stream of budget is required.
Conclusion
In conclusion, just like Digital Transformation, Evergreen IT isn't something you can avoid — not for much longer at least. Employees are expecting their technology experience to be the same as or better than it is at home, security breaches are only going to occur more frequently, and the lifecycles of hard- and software are only going to get shorter. The faster you get on board, the bigger your competitive advantage will be.