January 14th, 2020.
That is the date when Windows 7 goes end-of-life and a 10-year era ends — five years for Mainstream Support and five years for Extended Support. In addition, Office 2010 will lose support on October 23rd, 2020.
For years, Microsoft has been actively encouraging (some say nagging) organizations to move to its latest operating system, Windows-as-a-Service, or Windows 10. For example, the recently launched Windows 7 patch (KB4493132) even includes a reminder prompt to upgrade to Windows 10. The summary note reads: "After 10 years of servicing, January 14, 2020, is the last day Microsoft will offer security updates for computers running Windows 7 SP1."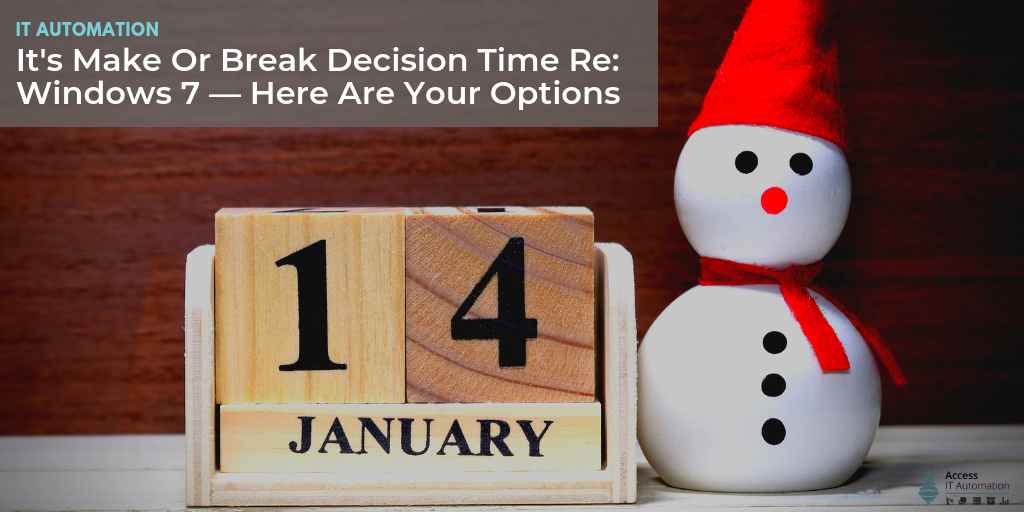 It further goes on to warn users that they will no longer receive any feature, quality, and security updates after the January 14th deadline. In addition, support for Internet Explorer will be discontinued on January 14th as well, and Microsoft has been chipping away functionality of its popular Windows Media Player and Windows Media Center.
Although adoption of the new OS has been vast, there has not been the kind of business adoption that Microsoft and analyst houses were expecting. In fact, the Windows 7 market share slightly increased last month to 38.4% while the market share for Windows 10 decreased to 40.3%. This indicates that many organizations are stalling with their migration efforts, or that projects are only just starting now.
While Microsoft has given enterprises and educational institutions another few weeks (until April 1st, 2020) of a grace period before starting to charge between $25-$50 per device for Extended Security Updates (ESU) support until 2023, it is about high time to make some hard decisions and come up with an exit strategy for Windows 7.
Option 1: Procrastinate & Do Nothing [Worst Choice]
While none of our customers and prospects that I spoke with consider this an option, there are some organizations who will further procrastinate and hold off as long as possible before migrating to Windows 10. By continuing to do nothing, you are exposing yourself to security vulnerabilities, you might not be compliant with government regulations if you are in a highly regulated industry, and much more.
After the support ends, organizations who remain unsupported on Windows 7 will be a preferred and easy target for hackers, ransomware, viruses, and other cyber security risks. For those reasons, this is the worst choice you can make, in my opinion.
However, in some isolated circumstances, like staying on Windows 7 for a mission-critical legacy application or piece of hardware, be sure to isolate it and lock it down as much as possible for the time being until you can find a way to modernize it.
Option 2: Remain On Windows 7 But Pay For Extended Support Updates [Fallback 1]
Another option is to remain on Windows 7, but cough up support payments for Extended Security Updates. While this option offers three more years of additional support, this option should be used to buy yourself more time if you are starting your migration efforts now and know you won't be able to finish before the EoL deadline.
Customers with Windows Enterprise and Windows Professional licenses on volume-licensing agreements can purchase ESU separately as a last-resort option for Windows 7, Windows Server 2008/R2 and SQL Server 2008/R2. This will provide you with security updates for critical and important issues as defined by the Microsoft Security Response Center.
But it won't be cheap. Although it won't be millions of dollars like the XP Custom Support Agreements, expect to pay an additional
$25 (year 1: January 2020 to 2021),
$50 (year 2: January 2021 to 2022), and
$100 (year 3: January 2022 to 2023)
per device with a Windows Enterprise license and double as much for a Windows Pro license. If you have purchased Windows Software Assurance and/or Windows 10 Enterprise or Education subscriptions, you will be eligible for a discount.
Please note that there is no ESU for Office 2010 (you will need to upgrade to Office 365 ProPlus (recommended) or Office 2019. Also, it is good to know that you can purchase extended support upgrades at any point in time, but there is no benefit in waiting. You will have to "pay for preceding years as well since all security updates are cumulative starting January 2020," according to the Microsoft End of Support FAQ Document.
Option 3: Go The Virtualization Route [Fallback 2]
For some organizations, it might be appropriate to transition to a temporary virtualization solution, Windows Virtual Desktop, which includes free Windows 7 Extended Security Updates (ESU) for 3 more years.
This Azure-based service offers a multi-user Windows 10 experience and is optimized for Office 365 ProPlus. However, this solution will not work for all organizations and needs to be evaluated carefully before you choose this route as your fall-back plan.
Option 4: Abandon Windows & Choose Another Operating System [Unlikely Option]
Although this is not a likely option at all for "Microsoft-Shop" organizations, I want to list this option for the sake of providing a complete list. Is it possible to switch to Linux to avoid Windows-as-a-Service's continuous upgrade cycles? Yes, absolutely. But for the vast majority of enterprises, this simply won't even be up for debate as they are too deeply embedded in the Microsoft world.
Option 5: Migrate To Windows 10 ASAP [Recommended]
Obviously, upgrading to the newest version of Windows 10 is the recommended option. It's been almost four years since Windows 10 was released, it comes with a tremendous amount of new productivity and security features, and most Windows 7 applications should run without an issue.
For most organizations, the effort of migrating initially plus the continuous upgrades every six to twelve months are holding them back. But with a scalable and repeatable process, the right tooling, and an internal process/culture change, your organization will not only have access to new features faster, but will be more secure and score major IT hygiene brownie points along the way.
Conclusion: Find Out What Is Holding You Back
Procrastination usually has a reason. Maybe yours is potential application compatibility issues, too much compounding IT debt, or "other, more pressing" priorities, but I highly recommend that you find out what is holding you back and deal with it.
If you still can't find enough motivation, simply calculate how much ESU will cost you or what the potential damage of a ransomware attack or virus would be in your environment. On a positive note, you could run your estate through Access AppScan to find out if your environment is suitable for virtualization and how many apps are compatible and would be able to get certified right away. This will give you a good starting point.