Little did Microsoft know how much the world would need to rely on something they, in 2015, coined the "Modern Desktop" to describe a Microsoft 365, Windows 10, and Office 365 ProPlus based desktop. Its purpose is to let employees work from anywhere productively as they collaborate with their teammates while always staying up-to-date, secure, and compliant.
Today, I want to have a closer look at what we mean by Modern Desktop Enablement and why it is so crucial for any organization right now.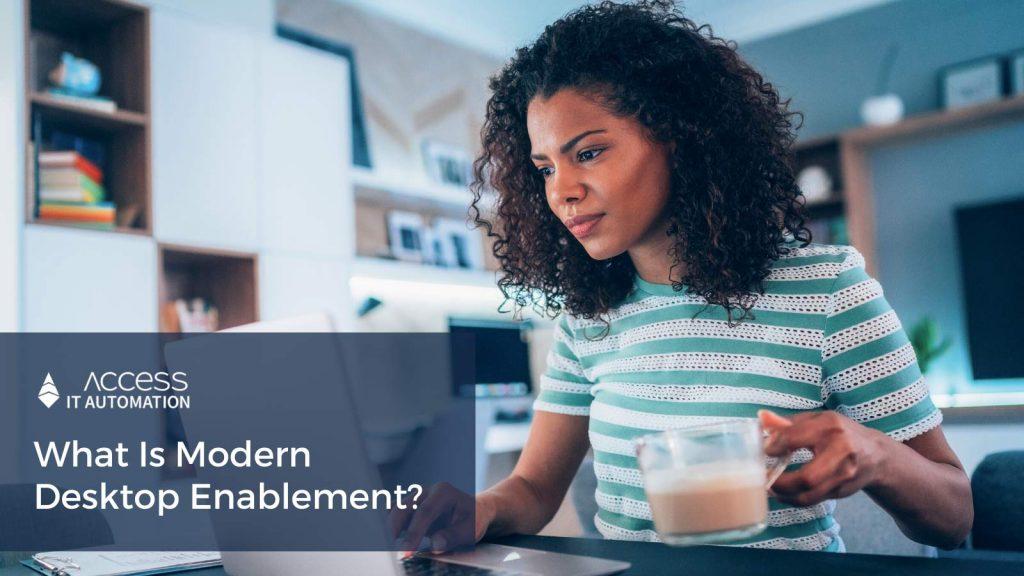 The Post-Pandemic Workplace Will Be Hybrid & Extremely Flexible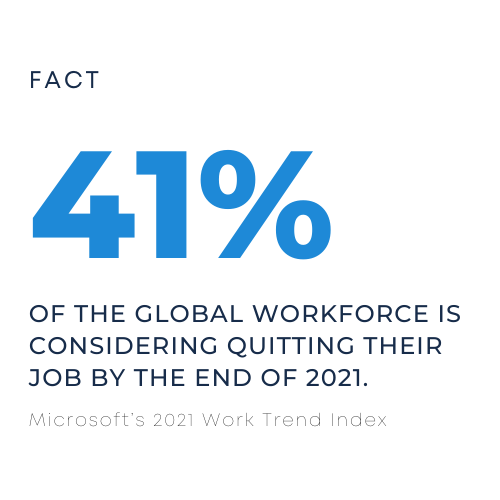 Since then, the world's workforce has gone through a full lockdown followed by a slow return into the offices. For many employees, back-to-back Zoom or Microsoft Teams meetings, burnout, loss of purpose, and lack of work-life balance have taken a huge toll over the past 18 months.
In fact, 41% of the global workforce is thinking about quitting by the end of 2021 according to Microsoft's 2021 Work Trend Index. This phenomenon is known as the "The Great Reshuffle" or "The Great Resignation".
How many will actually follow through still remains to be seen, but one thing is quite clear: hybrid work is here to stay and employers who aren't providing the experiences that workers are looking for will struggle to retain their talent.
The same report points out that 70% of employees want flexible remote work options while 65% want more face-to-face time with their colleagues. Consequently, businesses will have to redesign physical office spaces to accommodate both. However, 75% of security decision-makers are afraid that, by moving to hybrid, the work environment will be much more vulnerable to security threats.
Modern Desktop Enablement To Power Your Hybrid Workplace
This is where Modern Desktop comes in. However, here at Access IT Automation, we understand that a Modern Desktop is a little broader than an up-to-date device running Windows 10 + Microsoft 365 + Office 365 ProPlus.
Our understanding aligns more with that of Security Boulevard who defines Modern Desktop "as any interface in which end users access the corporate network, via non-domain-joined or domain-joined machines, the cloud, or virtualization. Accordingly, Modern Desktop Management would be defined as the consistent configuration, security, and management of these workspaces."
For us, an organization enabling Modern Desktop meets the following criteria:
They manage end-user devices (laptops, desktops, and mobile devices) that are connected to a corporate network or accessed in the cloud or hybrid/virtual and are managed by corporate IT.
They provide users with a portfolio of productivity tools, including (but not limited to) Office 365 ProPlus.
They have carefully planned and tightly managed Evergreen IT processes in place that regularly deploy relevant feature upgrades and security updates.
They have endpoint management for policies, apps, security patches, and updates using Microsoft Intune, which is now even more important than ever.
Consequently, they:
Have carefully normalized, categorized, and rationalized their application portfolio and keep it up-to-date.
Adopt Modern Apps and re-package their legacy application estate to modern application formats, such as MSIX, app attach, etc. and constantly test their applications against the latest releases. To do this efficiently, they have implemented application packaging and testing automation, like Access Capture.
Have evaluated their application suitability and performance and right-sized their virtual environments to match the requirements of their employees' personas.
Continuously monitor their environment for security threats, performance drops, and other markers that could indicate that the health, stability, or performance of their IT is diminishing using tools like ServiceNow and Access Symphony.
Measure, benchmark, and visualize the insights gained by overlaying device, application, user, network, etc. data to improve their environment.
Enabling Modern Desktops is crucial to providing your employees with the technology and work experience they crave and expect. Over the next weeks, we will explore further the benefits and challenges you will encounter as part of this process, provide insights on the strategy and planning process, and give some tips on tooling. Stay tuned.