Recently, I came across a rather shocking number: Every year, IT issues prevent employees from doing any work for up to 2 days a year and cause employees to be unproductive for a wopping 6 full work days  — costing businesses an estimated £62.4 billion (or $84.21 billion) in salary! This is not including the loss of revenue the company could potentially face because of it. For example, 58% of respondents couldn't provide service to customers because of IT failure and 50% of employees missed a deadline due to technical difficulties.
Tweet: Study: Inability to work due to #IT failures and productivity loss because of IT issues cost businesses over $84.21bn in salary. #ITautomation https://ctt.ec/Hezu2+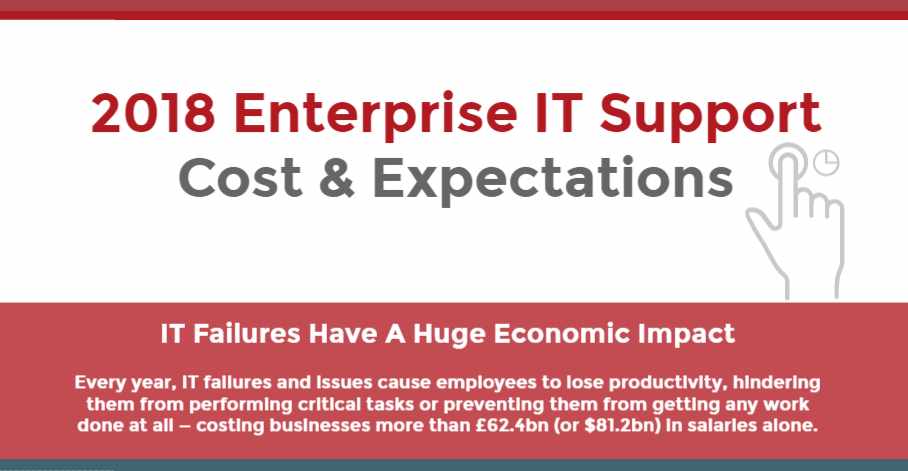 Low Confidence In IT's Ability To Provide Great Customer Service
However, expectations for IT to fix it are at an all time low: 49% felt their IT request goes to a black hole and they would like to see more transparency about the progress. Almost half of the people who faced IT failure would rather try to create a workaround or ask a co-worker to help them fix it than go to IT and ask for help. 30% of millennials even say they would rather clean toilets than contact customer service!
This leads to a wide variety of problems. Workarounds or self-help fixes could create even bigger problems, expose the entire IT estate to cyber security vulnerabilities, or create an entire Shadow IT that must be maintained and managed.
Collides With Rising Customer Service Expectations
This is simply unacceptable in a world where almost every single person (96%) feels strongly that customer service plays a role in their choice of and loyalty to a brand, according to Microsoft's 2017 State of Global Customer Service Report.
In addition, 54% of the people asked as part of the study say they have higher expectations for customer service today compared to last year. If you just consider millennials, who make up about half of today's workforce, this number jumps to 66%!
Bring Your IT Support Experience Up To Par With IT Automation
As consumers at home are accustomed to switching on their favorite music, adding items to a shopping list, or setting an alarm by just asking Alexa, Google Home or similar smart devices without ever pressing a button, it is understandable that they become frustrated when they have to create a support ticket at work for an IT job that should be resolved within minutes rather than days.
While you won't see an Alexa device listening for your commands at work anytime soon, there are better and more efficient ways to tackle the IT support dilemma. For example:
By preventing up to 75% of the support tickets from ever being created. By offering a wizard-driven self-service portal where users can search for, find, and implement solutions more easily and much faster themselves, customer satisfaction rises. This will eliminate all low-complexity issues, leaving your support staff more time and resources to tackle more complex requests.
One of the expectations of three out of four respondents is that the customer service representative already has the record pulled up and knows who the person is, what they have purchased and how they have previously engaged with the company. By using a wizard-driven self-service approach, end users will self-diagnose and validate a lot of data already. Should they get stuck, your help desk team member has instant access to this added context.
In addition to eliminating tickets from being created, it is critical to increase the transparency of what happens once the ticket is received.  According to Microsoft's study, 

proactive customer service notifications and requests for feedback have significant impact on how most customers view the brand.

Use IT Automation and smart agents to tighten endpoint security and management — proactively improving your endpoints' health and performance.
Empower your end users by making them an active part of caring for their devices by giving them access to individual health scorecards and recommendations that allow them to take action before an issue arises.
Below, we have summarized all important points for you in a handy infographic:
What are your IT support goals for 2018 and beyond? Are you planning on using IT automation to proactively manage your endpoints' health and performance? Please feel free to share in the comments below.