Most people know that Microsoft had announced that Windows 10 was going to be the last Windows ever released, but what most don't know is that even Windows 10 has had an End-of-Life date from the very beginning. As it says on Microsoft's Windows 10 Enterprise and Education Modern Lifecycle page, "Microsoft will continue to support at least one release of Windows 10 Semi-Annual Channel until October 14, 2025. The below table reflects the released versions to date."
But what happens after that? How should enterprises plan for the remainder of Windows 10's lifecycle and how does Windows 11's support model play into all this? How much disruption will this cause and do you need to plan for another big bang migration to Windows 11?
Today, I want to take a closer look at the current information available and try to answer all these questions. To do so, let's have a closer look at the Windows 10 support model, compare it with the new Windows 11 one, and then talk about the possible consequences.
Windows 10 Support & Lifecycle
As you probably know, Microsoft's track record with managing Windows 10 support windows is very long. The software giant quite quickly departed from its initially announced branch model and moved, after multiple iterations, to a Service Channel Model.
Customers who subscribe to the Semi-Annual Service Channel (rather than the Long-Term Service Channel), receive two feature updates a year (there has been much discussion around having one larger and one smaller update per year) in addition to monthly quality/security updates. Despite the many extensions lately due to COVID and other reasons, Microsoft is providing 18 months of support for the spring release and 30 months for the fall release.
| | | |
| --- | --- | --- |
| Windows 10 Version | Release Date | End-of-Life Date |
| Version 21H1 (Spring Update) | 05/18/2021 | 12/13/2022 (18 months) |
| Version 20H2 (Fall Update) | 10/20/2020 | 05/09/2023 (30 months) |
| Version 2004 (Spring Update) | 05/27/2020 | 12/14/2021 (18 months) |
| Version 1909 (Fall Update) | 11/12/2019 | 05/11/2022 (30 months) |
For the upcoming versions of Windows, the lifecycle looks like this. For more information, please see the official Microsoft lifecycle sheet.
However, many enterprises have not yet moved off the initial version they migrated to when they moved away from Windows 7. In fact, a huge number of large organizations are stuck on 1809 which lost support last month. This is partially due to the unlucky coincidence of it being a popular release to move to initially, Microsoft extending support for this version up to 36 months (3 years), and COVID sending everyone into a scramble. Now, organizations need to plan their next move very carefully and quickly.
And this is when Microsoft announced Windows 11…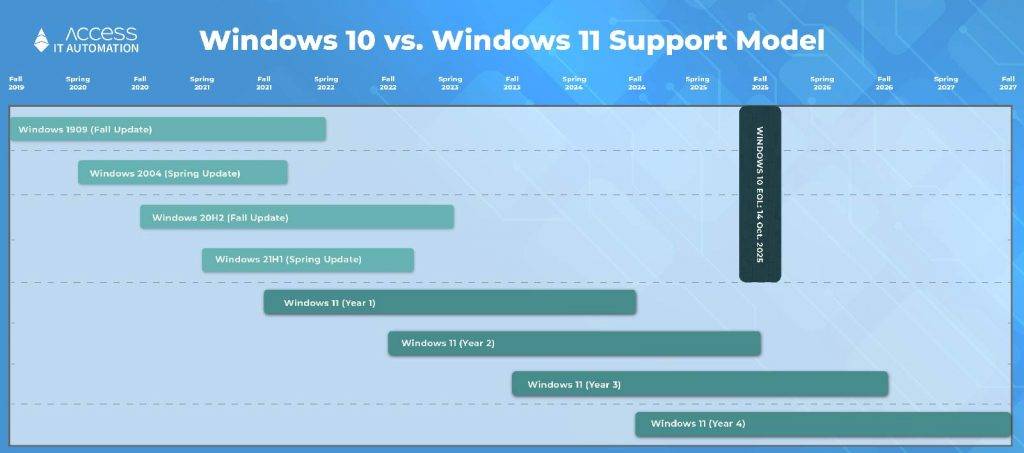 What Does The Windows 11 Lifecycle Look Like?
While we still expect much to change over the coming months, here is what we know about the new support model for Windows 11:
It will follow an annual rather than a semi-annual update cadence and it has much longer support windows (36 months) than Windows 10. This should please large organizations as even agile ones struggled to keep pace with the fast Windows 10 cadence.
In addition, Microsoft has announced that it will continue its monthly quality updates (also referred to as the "B" release or Patch Tuesday release) but those will be 40% smaller than the current Windows 10 ones and they will completely run in the background.
John Cable announced on June 28th, 2021 that "Windows 11 will have an annual feature update cadence, a change from the semi-annual cadence of Windows 10. […] Windows 11 will come with 36 months of support for Enterprise and Education editions, continuing to provide additional time and flexibility for the validation and at-scale deployments common on those editions. The change to an annual update cadence and slightly longer lifecycle versus Windows 10 is based on user feedback and our overall update approach."
He further explained that organizations will be able to use all the existing Windows 10 servicing channels as well as "many of the same familiar management and deployment tools and processes including but not limited to Windows Update for Business, Microsoft Endpoint Manager, and Windows Autopilot."
What Does This Mean For Your IT Strategy Plan?
What does it all mean for enterprises? Will this mean they have to plan for another big-bang Windows 10 to Windows 11 migration project like the one they just went through when moving from Windows 7 to Windows 10? The answer seems to be (at least theoretically) "No."
Steve Dispensa, in his article "Planning for Windows 11: Best Practices for Organizations", explains that "Windows 11 is built on the Windows 10 code base so it's natively compatible with the software and solutions you use today. In addition, Windows 11 and Windows 10 are designed to coexist, backed by a common set of security and management capabilities delivered by the Microsoft cloud." 
Of course, we are only one week post-announcement and Microsoft already has had to back-peddle on a bunch of hardware requirements that they imposed on Windows 11, so we still expect some things to change in the coming weeks and months. But here is what I recommend that you do:
If you are on Windows 10 1809 or 1902 (which will be the absolute vast majority of enterprises): Don't worry about Windows 11 right now. You need to first move all of your end users to a supported version, such as 1909 which is a stable version with 11 months of support left. I highly recommend that you carefully and effectively plan this move and then quickly execute it as soon as possible to avoid security vulnerabilities.
If you are on Windows 10 1909 or 2004: While your end users are still supported for another 5-11 months, you need to think about your next steps carefully as time is already of the essence. We recommend that you have a few technical pilots who evaluate Windows 11 now as part of the Windows Insider Program for Business, but this is more to inform your decision on how fast you will want to move to Windows 11 in the future. In other words, you determine how many skips you will need to make until you migrate to 11. But don't lose sight of the short-term goal of upgrading your users to a newer version of Windows 10 first. While you move, get everything ready for smooth Evergreen IT management. 
If you have Evergreen IT down: There are many productivity and UI improvements in Windows 11 that fully justify evaluating deeply whether or not you would want to move suitable candidates over as soon as possible. To accomplish this, you can use Microsoft's free tool for a basic hardware compatibility assessment or use Access Symphony for a more in-depth analysis. We also recommend figuring out your upcoming candidates for a hardware refresh to make moving to Windows 11 easier. 
He does recommend that enterprises join the Windows Insider Program for Business as soon as possible. Then they should start to review their devices, applications, and deployment processes, and assess their hardware and software readiness for possible hardware and application compatibility issues. Next, he recommends to create
In any case, this again cements that Evergreen IT is here to stay. Whether we have 18 months or 36 months, we must plan on constantly packaging and testing our entire application portfolio using an end-to-end automated process and managing it tightly in a central location. Microsoft is talking about application compatibility issues already with Windows 11 and the need for enterprises to be able to assess and remediate them, so modernizing your application portfolio and having the processes automated and in place before you move to Windows 11 will give you a huge leg up and accelerate the process.