We recently discussed what Modern Desktop Enablement is. We touched on the subject of why it is now more important than ever to enable and manage Modern Desktop in your organization, but today, we take a closer look at how this will be influenced by and have an impact on IT spending, remote work environments, and cyber security.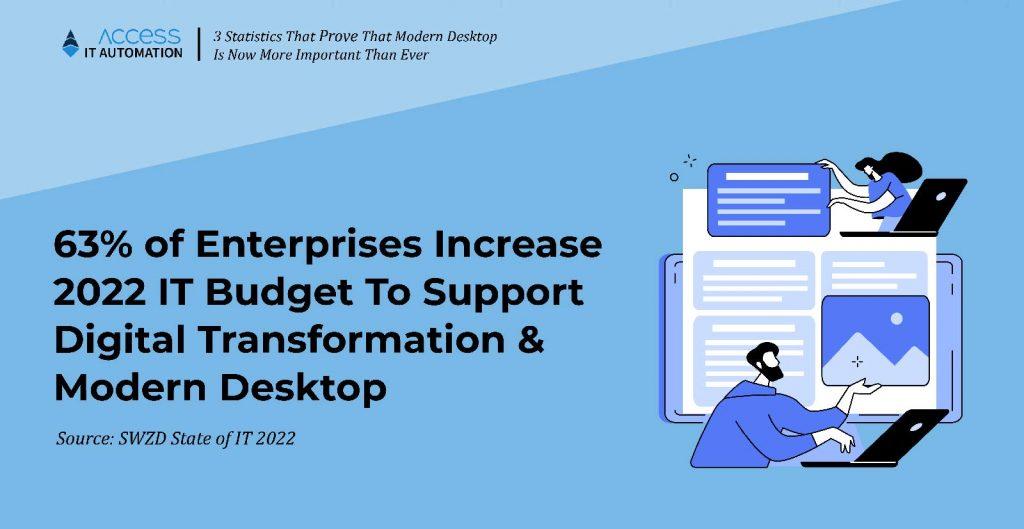 63% Of Enterprises Increase 2022 IT Budget To Support Digital Transformation & Modern Desktop
According to SWZD State of IT 2022, 63% of companies with more than 5,000 employees are planning to increase their IT budget in 2022 — 67% in the financial services sector. As in the past few years, this is primarily driven by (more than one answer was possible, percentages are not cumulative):
Increased priority of IT projects (56%)
Increased security concerns (49%)
Need to upgrade outdated IT infrastructure (44%)
Supporting remote workforce due to COVID-19 (43%)
Employee growth (41%)
Changes to business operations due to COVID-19 (40%)
In other words, organizations are driving their Digital Transformation initiatives forward in full force (now fueled even more due to COVID-19 related changes to their business operations) while moving to a Modern Desktop.
While the end-of-life of Windows 7 and Windows Server 2008 dominated last year's push for upgrade/refresh cycles, organizations have now emerged from the initial scramble to adjust after the initial lockdown and are now focusing on carefully managing OS/Office 365 upgrade and hardware refresh cycles to maintain a secure, high-performing environment for all of their employees, no matter where they work from.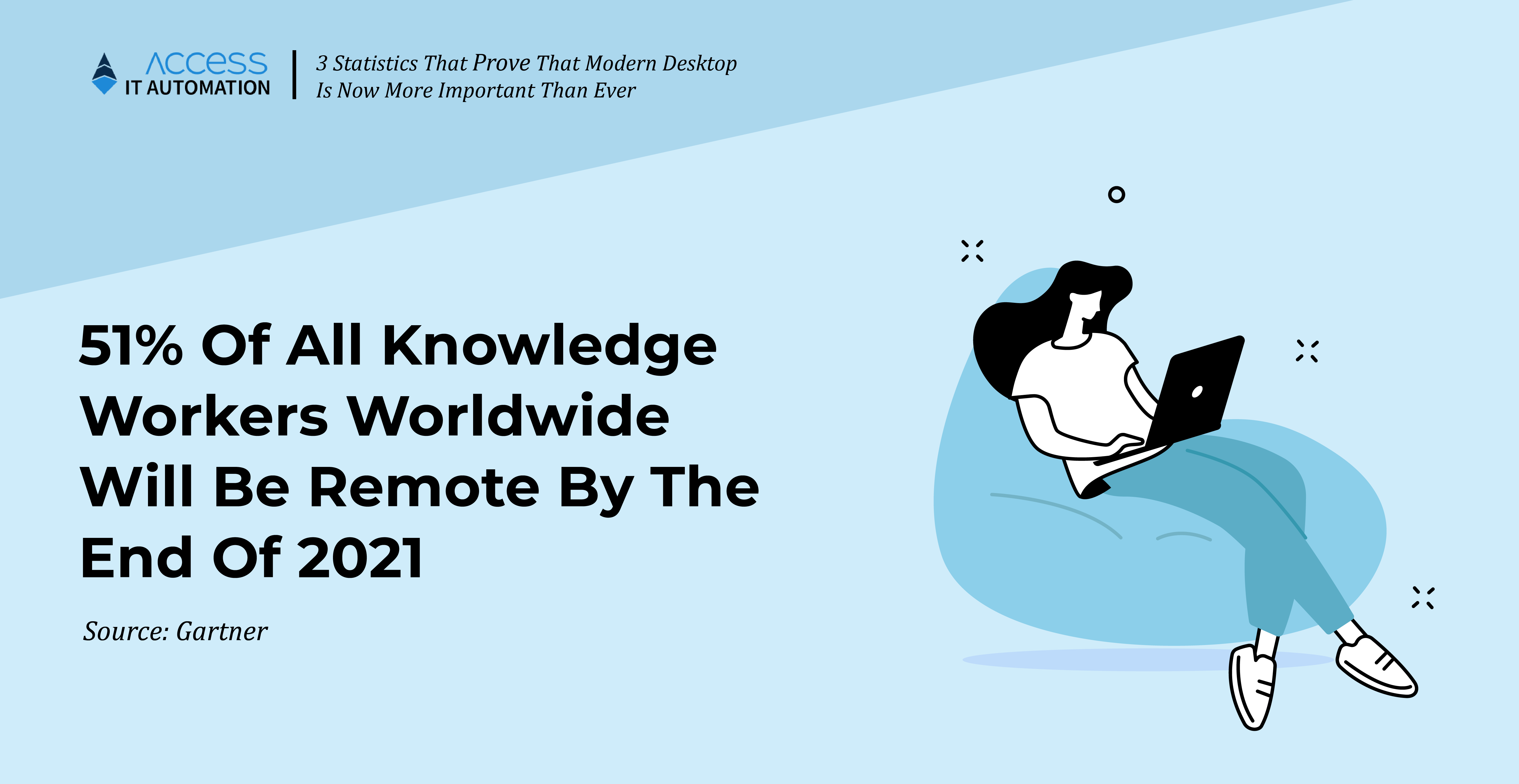 51% Of All Knowledge Workers Worldwide Will Be Remote By The End Of 2021
According to a recent Gartner study, 51% of all knowledge workers and 31% of all workers worldwide will be working remotely, which can be either in a hybrid model or fully remote, in 2022. The United States is leading the pack with 53% of the entire U.S. workforce working from home, closely followed by the United Kingdom with 52%. Germany and France will account for 37% and 33%, respectively. This is a sharp increase from 17% of employees in 2019.
Microsoft's Work Trend Index Report "The Next Great Disruption Is Hybrid Work—Are We Ready?" published in March 2021 says that 70% of employees are demanding flexible remote work options, requiring companies to redesign physical office spaces to allow more fluid desk management while still allowing for plenty of face-to-face time with co-workers. 
With this many employees working remotely, having a Modern Desktop is essential to keep your employees working as efficiently as possible, collaborating with their team, and feeling connected and engaged.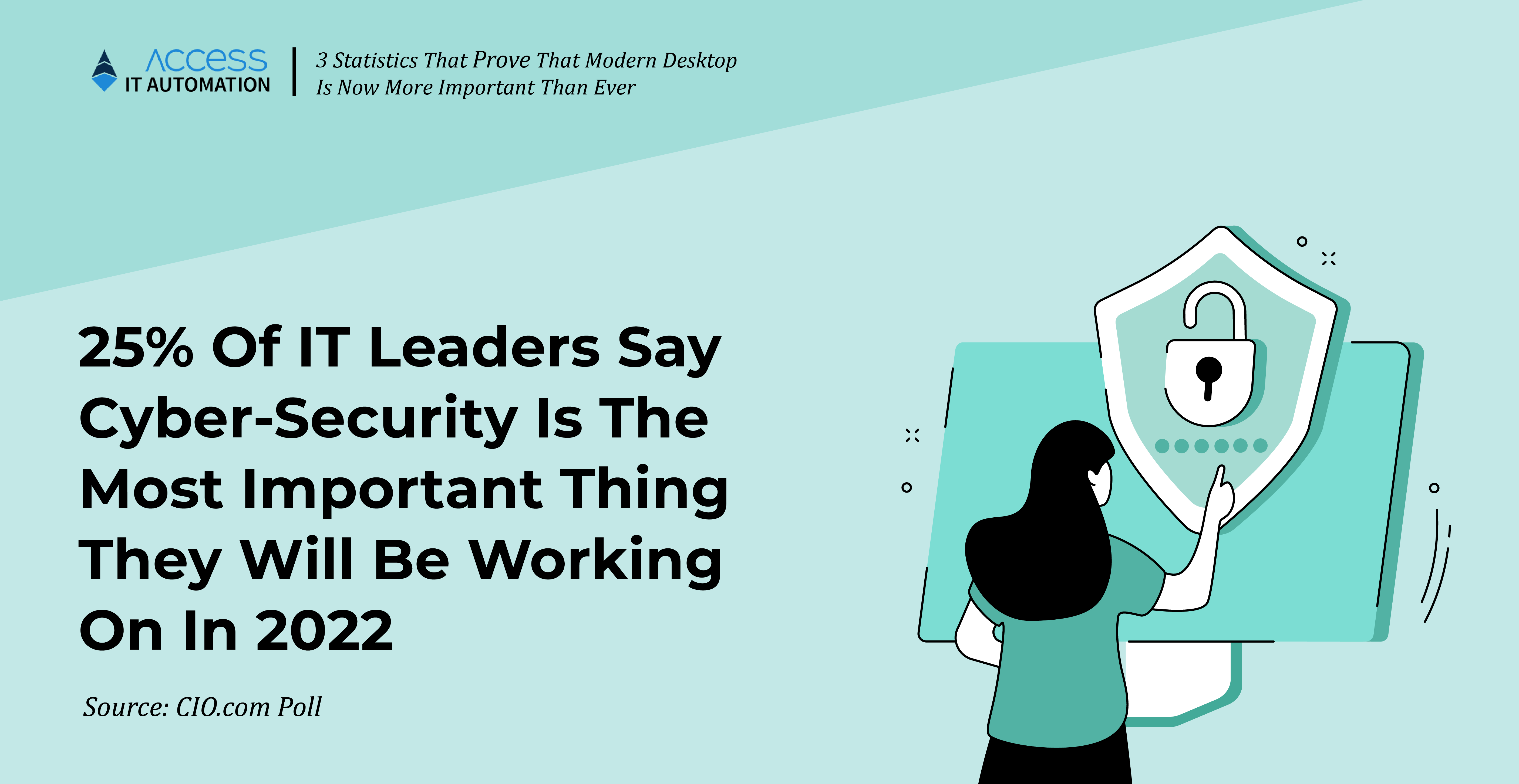 25% Of IT Leaders Say Cyber-Security Is The Most Important Thing They Will Be Working On In 2022
However, the same above-mentioned Microsoft study finds that three out of four security decision-makers are afraid that work environments are becoming much more vulnerable to cyber-security threats by moving to hybrid. For example, Gartner points out that "by 2024, at least 40% of all remote access usage will be served predominantly by zero-trust network access (ZTNA), up from less than 5% at the end of 2020."
Consequently, cyber-security is a huge IT management priority. In fact, a recent CIO Tech poll found that "25% of IT leaders said that cybersecurity initiatives such as real-time security monitoring and forensics were the most important things they were working on. It's also the area in which most IT leaders — 65% — were planning to increase spending. Just 1% planned to cut their cybersecurity spend."
Therefore, keeping all of your desktops tightly managed as a Modern Desktop is absolutely essential.
Modern Desktop Enablement and Management is going to be a key element in enterprise IT strategy in 2022 and beyond as we move towards Modern Applications and Windows 11. It requires full 360-degree insights and actionable views across your entire estate as well as agility when it comes to your people, processes, and technologies.
With Access IT Automation, you can not only accelerate your application modernization by virtualization and containerization for the cloud through application monitoring and suitability testing, but also provide the best possible user experience through ongoing digital experience user personas and scoring based on application and asset health. Finally, you get actionable insight into all of your devices and their associated users and applications.