There is a new worrisome (even if short-term) problem enterprises are currently struggling with. I call it COVID-19-induced Windows 10 Complacency. Today, I want to explain what this made-up term means and what you can do immediately to minimize or eliminate the problem. Let's have a look.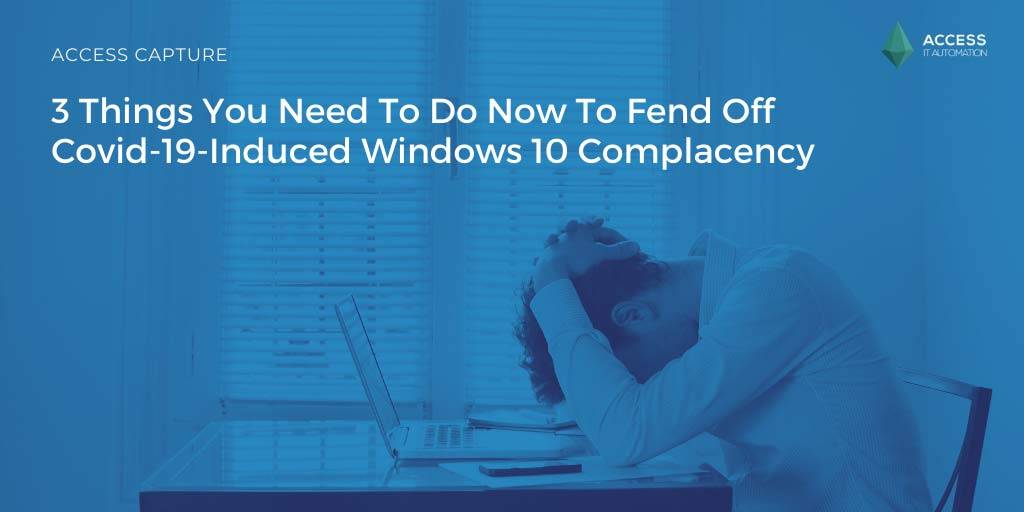 For enterprises, proper planning and the execution of carefully laid strategies are key to success or failure as a company — especially when it comes to Windows 10 Servicing. With tens (or hundreds) of thousands of employees and devices and dozens of locations and departments, keeping everyone up to date and connected is a constant juggling act.
But when COVID-19 hit, forcing the closure of offices worldwide,  all well laid out plans were put on hold until this fire was put out. As it became apparent that these initial stay-at-home orders weren't going to be lifted within two weeks, IT departments started to scramble. Devices were borrowed from Business-as-Usual teams and assets moved around God knows where as IT tried to equip all employees to work from home.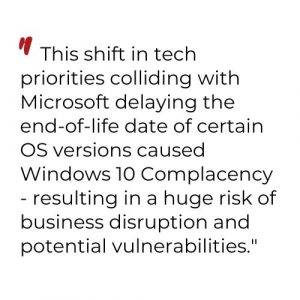 Now that a year has passed since the initial lockdown orders, many companies still have most of their workforce working from home. The attention has switched from getting everyone properly connected and up and running to providing the best digital experience while working from anywhere. But, for most enterprises, this experience has been riddled with slow performance, connectivity problems, and other IT issues.
According to IDC, "The crisis has caused them to face these challenges head-on. In some cases, technologies and initiatives that were previously considered nonessential are now critical to business continuity." This shift in tech priorities colliding with Microsoft delaying the end-of-life date of certain Windows 10 versions caused IT teams to become complacent — resulting in a huge risk of business disruption and potential vulnerabilities.
What Caused An Atmosphere Of Complacency
Since the release of Windows 10 in 2015, Microsoft has changed (multiple times) its update cadence, update channel name, and support schedule (with numerous extensions) in order to find the proper balance. Despite enterprises asking for a slowed down release schedule, Microsoft held steadfast on a much faster cadence of update versions, having two updates a year in H1 and H2 since 2017. However, the software giant realized the need to offer longer support windows, which led the company to implement a modified cadence starting with the H2 release in 2018. Since then, the H1 release is serviced for 18 months while the H2 release is serviced for 30 months.
When Microsoft announced the new support timelines, they also extended the EOL dates for all versions of Windows 10 that were still in service (1607, 1703, 1709, and 1803) to 30 months from their respective release dates. This extension of EOL dates for supported versions gave early adopters more time to get their Evergreen IT plans into place while becoming accustomed to more frequent testing and updating.
Enterprises that had not yet made the jump to Windows 10 took this new initial 30-month support timeline of version 1809 and the extended EOL of 1803 as their opportunity to make the migration. Version 1803 was already released and among the general public for over four (4) months, had its bugs worked out and would be supported until November 2020. Version 1809 was newly released, but the support would go until May 2021.
This new schedule caused many enterprises to migrate to one of these versions as they thought that they had time to test, migrate, implement an Evergreen IT plan. However, COVID-19 hit in March of 2020, and with it came a scramble to get employees set up to work from home. As a result. the looming EOL dates got pushed to the side. To ease the pressure on IT teams dealing with COVID issues, Microsoft extended the EOL date by six (6) months for 1803, bringing it to the same EOL date as 1809 (May 11, 2021) — giving IT teams more time.
But for many, this resulted in a new problematic situation. Now that it has been a year of employees working from home, all of a sudden IT departments have realized that the version(s) that the majority of their company is on will be expiring soon, and they still don't have a proper Evergreen IT plan going forward.
What You Can Do About It
Does any of this sound familiar? With less than 7 weeks to go, I am sure many of you are feeling the pressure to update as quickly as you can. Some enterprises might be banking on the slim chances that Microsoft will issue another extension for 1803 and 1809 (I don't think that will happen), but whether that happens or not, companies still need to have an Evergreen IT plan in place and start the migration process to a newer version of Windows 10 ASAP!
To compound the issue, deciding which version of Windows 10 to upgrade to isn't an easy choice to make:
Version 1903 has been out of service since December 2020.
Version 1909 is in support until May of 2022, but that might be too short of a support window for most enterprises.
Although version 20H2 has over two (2) years left and goes EOL in May of 2023, recent issues with patches for it can cause workplace disruptions.
Whichever version an enterprise goes with, they need to act fast to avoid running an unsupported version that will be vulnerable to hackers, who are more active now than ever. Once they decide on a version, there are certain steps that will make the transition smoother and ensure future Evergreen IT success with Windows 10.
#1: Automate Your Smoke Testing (Launch & Load)
One of the quickest ways to start migrating users over is to ensure that the apps they are using will work on the new version(s). By doing automated smoke testing using Access Capture's launch and load feature, you can quickly gauge which apps are able to be installed and run on the new version of Windows.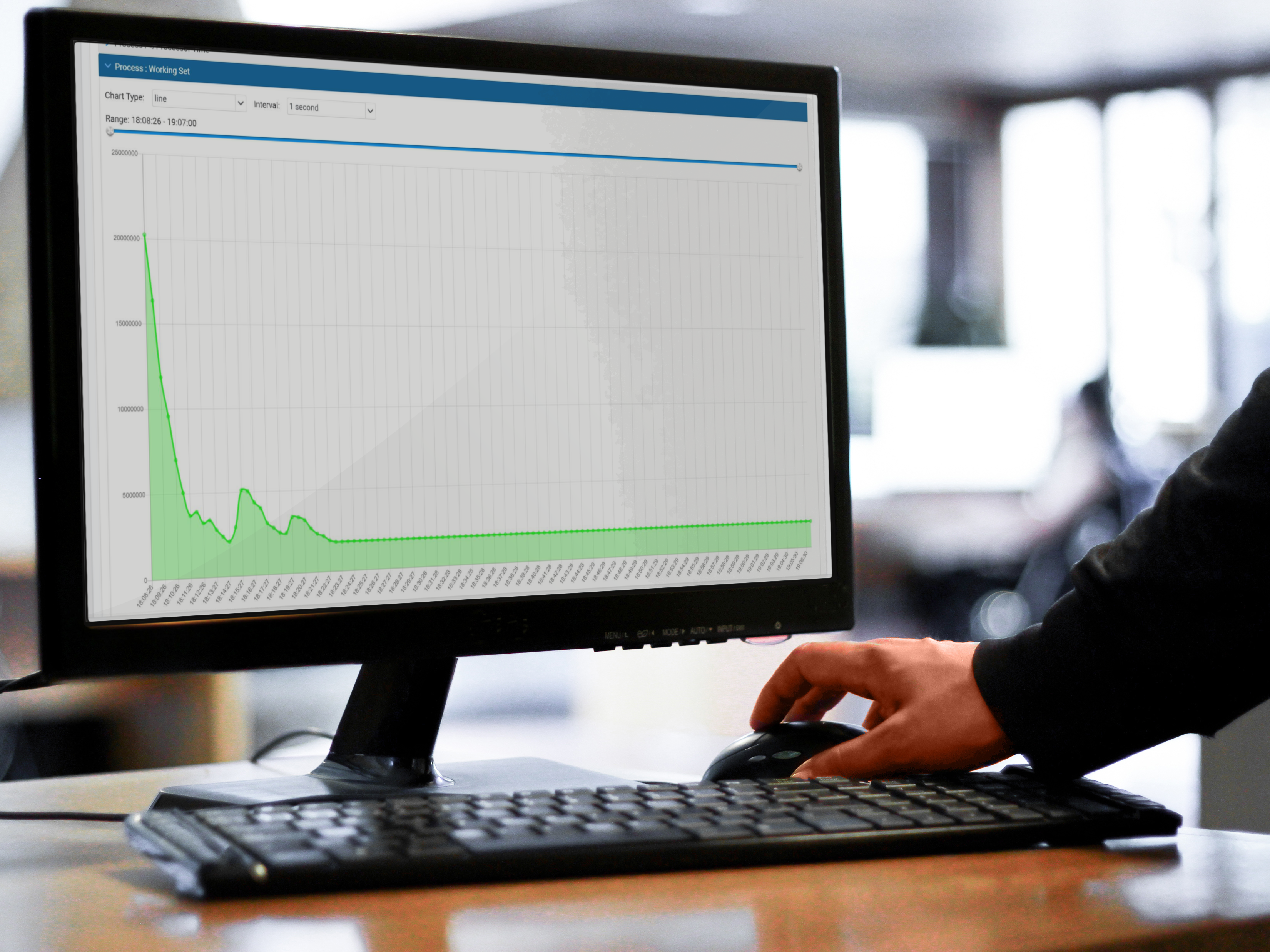 For instance, using group membership, moving a whole department (like finance, which might have five thousand users who only use 10-50 apps) can be a quick win with smoke testing. Our launch and load tool installs and runs the app, checks to see if it works, then resets the virtual machine all while recording it in case of any issues. For detailed information on how our automated smoke testing works, please click here.
#2: Automate Your User Acceptance Testing (UAT)
While smoke testing can give you results on your app estate quickly, it does have its limitations. During smoke testing, the app is only run for a brief period of time, so deeper issues can arise when the app is used day after day. Another test to run in parallel with smoke testing is user functionality/acceptance testing (UAT).
This type of testing is best suited for more critical line-of-business apps, and for when an enterprise has more time to upgrade and is not facing an impending deadline in just weeks.
Automating this testing by using Capture, you can have an email go to product owners which instructs them to use the apps specified, open files, create content, etc. This testing can be sent to users with various builds and operating systems to test multiple scenarios. Since the user has to perform specific tasks within the app, it ensures a higher level of compatibility.
#3: Strategically Decide Which Devices To Put Into Which Support Channels And Deployment Rings
One way to ease the burden on your IT staff is to create deployment rings for your Windows 10 upgrades. Using data collected by Access Symphony, you can get detailed views into your IT environment to see what apps are installed, how many employees are using them, how often they are being used, etc. Along with rationalizing unused/duplicate apps, this data can also be used to create deployment rings.
For instance, if you have a group of users that use the Office Suite of apps and a few other third-party apps, i.e., Adobe, WinZip, etc., they don't require testing that is as extensive. They can be put on the H1 update channel, since the 18-month support window should be sufficient for them to upgrade to the next version.
Users that are running proprietary apps and a significant number of third-party apps, especially ones that are very industry specific, will need more time to have them tested with the new versions to have a stable, reliable user experience. These users should go on the H2 update channel so they have more time for testing and version stability before migrating.
In addition, you will want to be very strategic about using the deployment ring concept to your fullest advantage. If you plan your earlier pilot phases correctly, you can migrate the easier-to-upgrade users (low hanging fruit) fast and in one fell swoop while dividing up more difficult scenarios for later broad development waves.
Conclusion
Having an Evergreen IT plan is crucial for keeping up with your Windows 10 migrations to ensure a stable and secure environment. Whether you have migrated to Windows 10 already, or are on paid extended support for Windows 7, you need to have a strategy in place to keep up with the constant updates from Microsoft. Employees' user experience, while always important, has had a sharper focus since the start of the pandemic.
Employees that have more advanced features and an up-to-date personal device will not be as motivated when working on their company-issued device. Getting onboard with Evergreen IT might seem like an extremely burdensome task, but using IT Automation can keep your IT team on point to keep with the schedule and to adapt even when significant curve balls are thrown their way.