Everyone knows IT automation provides lots of perks for IT as well as the entire business. But when hard pressed for tangible benefits and real numbers — or writing a business case — most of us would be caught off guard. It doesn't come naturally to most IT professionals.
Over the past 30+ years as an IT executive, I have helped multiple organizations put together a great variety of business cases, so I thought I would put together some pointers on how to create a rock-solid, water-proof business case for IT automation. Below, there is also a PowerPoint template you can download to speed up the process.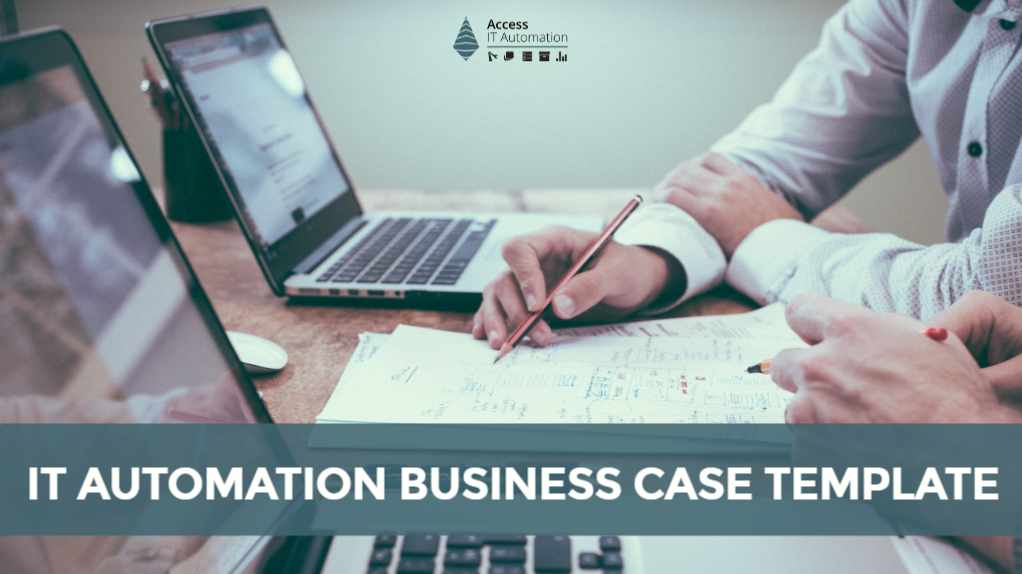 Traditionally, a business case is a comprehensive document that outlines in detail the core business benefits of a specific project, including cost-benefit calculations, break-even analysis, project requirements and dependencies, and much more.
The goal of such a document is to prove to customers, stakeholders, or executives that the project is a solid investment and the cost of the initiative is justified. Well-planned out business cases align the project goals with overarching business goals.
1) Identify The Primary Business Problem(s) Your IT Automation Initiative Will Solve
Unless you have unlimited resources, time, and budget, all projects must solve a specific business problem or generate a unique business opportunity. To get your audience's attention from the get-go, you should always "Lead with the Need", as Harvard Business Review writer Carolyn O'Hara puts it. Be sure to articulate the problems or opportunities clearly and align them with your business' overarching goals.
Below I have listed the most common business problems and opportunities with regards to IT automation. However, please note that this list is not exhaustive and is only meant to get you started on brainstorming. Always find what is the most applicable for your situation:
Exploding IT complexity reduces IT productivity: The number, complexity, and volume of IT systems that IT professionals have to manage is increasing at an alarming rate. It is not uncommon that IT professionals spend half of their day doing repetitive administrative tasks (manually upgrading one server after the after). This locks up valuable resources and talent that otherwise could be dedicated to driving business value.
Stability & reliability of systems: Because of the growing number and complexity of systems, it becomes increasingly difficult to maintain a standard across the board. As systems are adapted to business needs, each is configured slightly differently — resulting in so-called configuration drift. Once this happens (usually in a matter of days), the stability and reliability of your environment is at risk.
Inadequate time to market (agility): IT professionals are under tremendous pressure. Not only are they expected to maintain and upgrade currently existing applications and infrastructure to minimize the risk of business disruption but also respond in a timely manner to new business demands and facilitate the new adoption of new technology, such as Internet of Things, serverless computing, and artificial intelligence. Despite plans for more budget and increased staff, most IT managers are unsatisfied with the speed at which they are currently able to respond to business changes.
IT support desk lags behind: The fact that your support desk cannot keep up with the volume of incoming tickets might be more of a symptom than a root-cause, but it is nevertheless an important business problem to consider. For some ideas around how to measure the effectiveness of your support team, check out our IT support KPI article.
Our business case template includes some general slides to give you a starting point, including the top six IT challenges from the 2019 State of IT Report by Spiceworks:
41% of enterprises find it most challenging to keep their infrastructure up-to-date as well as to upgrade outdated software,
38% are having a hard time complying to regulatory requirements,
33% cannot sufficiently balance IT tasks and improvement projects, and
27% and 26% respectively named "following security best practices" and "providing security training".
Feel free to use these numbers or find others that suit your needs better.
2) Mention All Feasible Alternative Solutions
Many business cases skip this step and go right to recommending a solution (next step). But this leaves your business case vulnerable to questions. By addressing them in the actual document instead of waiting for questions, you prove that you have considered alternative solutions, but have dismissed them for valid reasons.
For each solution, you should list the expected benefits and estimated costs associated with them, and then detail the feasibility as well as any potential risks involved. Based on your solutions, you need to come up with a methodology to rank them to be able to make a recommendation on your preferred solution approach. This could be a simple scoring system or a more sophisticated cost-benefit analysis.
3) Recommend & Describe Your Preferred Solution
This is probably the step you will spend the most time on — detailing your preferred solution, IT automation. Based on your business goals that you have outlined earlier, you should now focus on describing how IT automation will help you solve this problem.
I always like to start with general numbers and then narrow it down to company-specific numbers. Our business case template, for example, calls out average enterprise adoption first:
38% of enterprises say they are currently using IT automation, while
20% are planning to implement IT automation within the next 12 months and another 13% will do so within 1-2 years.
Moreover, IT automation is named the second most impactful technology trend in 2019 (with 37%), only after Internet of Things (43%).
Then go into specifics regarding how IT automation will help your organization (be sure to spell out who in particular) to achieve their business goals in, for example, the following ways:
Hard Cost Savings. IT automation creates tangible cost saving opportunities by eliminating tedious, labor-intensive tasks. Based on the type of IT automation you are planning on implementing, estimate your cost savings and map out how you come to this number. For example, if you project a reduction in L1 and L2 support tickets through a self-service fix engine automation, you can assess future cost savings (as well as productivity gains).

Manual labor decreases (e.g., automatically running a fix script based on certain group policies)
Utilizing IT infrastructure more efficiently
Reducing the number of in-house applications which leads to less packaging, testing, maintenance and licensing costs
Eliminating set-up and tear-down time for certain IT activities (e.g., application testing utilizing virtual machines in combination with automation)
Reduced disc space and network requirements

Reliability & Stability. Because IT automation promotes a repeatability and consistency of processes and tasks while drastically reducing the possibility for human error and inconsistency, your environment becomes more reliable and stable.  While this might be harder to quantify, it is worth mentioning.
Improved Business Processes. In order to automate a process successfully, you will have to break it down into efficient sub tasks and often re-engineer your process to make it much better than it was before. Remember, a bad process automated is just a bad process made faster, not better.
Greater Transparency & Better Insights (Including Audit Trails). Once your process is automated, you will have greater insight into the performance of it. This allows you to diagnose the root-cause for a specific problem faster than manual investigation ever can. It also allows you to provide transparency to other stakeholders and an audit trail to meet regulatory and compliance requirements.
Proactively Mitigate Cyber Security Risks. A better managed, more stable, and always up-to-date environment results in tighter security. On top of this, you could also employ IT automation to proactively look for potential issues as well as ring-fence and mitigate any emerging problems.
Soft Cost Savings. In addition to hard cost savings, there is an enormous potential for soft cost savings, such as increased end-user productivity, reduced outage times, and much more.
Digital Transformation. Last, but not least, IT automation frees up resources that have spent most of their time maintaining status quo ("Keeping the Lights On") and makes them available to work on projects that actively contribute to the company's bottom line, such as Digital Transformation initiatives.
4) Implementation & Next Steps
Finally, you need to describe how you will implement your project. Try to anticipate as many questions as you can:
What kind of resources you will need?

What will the project timeline look like?

What budget will you need, and when and where will it come from?

What milestones do you expect to hit and when?

How will existing infrastructure be impacted?
…and many more. 
Again, be specific. But do keep your audience in mind. If you are presenting to your C-Level management, you will want to focus more on business- and financial-related topics, while your CTO might be more interested in the technical implementation side.