Earlier this year, in April 2018, the US Department of Defense (DOD) reached a massive milestone that was a long, looong time coming: the (almost) completion of the Windows 10 migration!
Microsoft had announced in February 2016 that the DOD was committed to migrate all of its over four million devices to Windows 10 within one year (target deadline of  January 2017) — "an unprecedented move for a customer with the size and complexity of the DoD", as Microsoft called it.
For an agency that was spending approximately $38 billion annually on cyber-security and IT to protect sensitive security data that if breached or leaked could pose a service national security risk, running machines on unsupported or unsafe operating systems, such as Windows XP and Windows 7, is a disaster waiting to happen. 
Given the unimaginable complexity of their environment, it is a huge achievement — and an incredibly important one: The number one goal was "to strengthen our cyber security posture while concurrently streamlining the IT operating environment."
Looking at the migration project more carefully, there are very valuable lessons that we can learn for our "regular" Windows 10 migration and Servicing management! We picked out the five most impactful ones: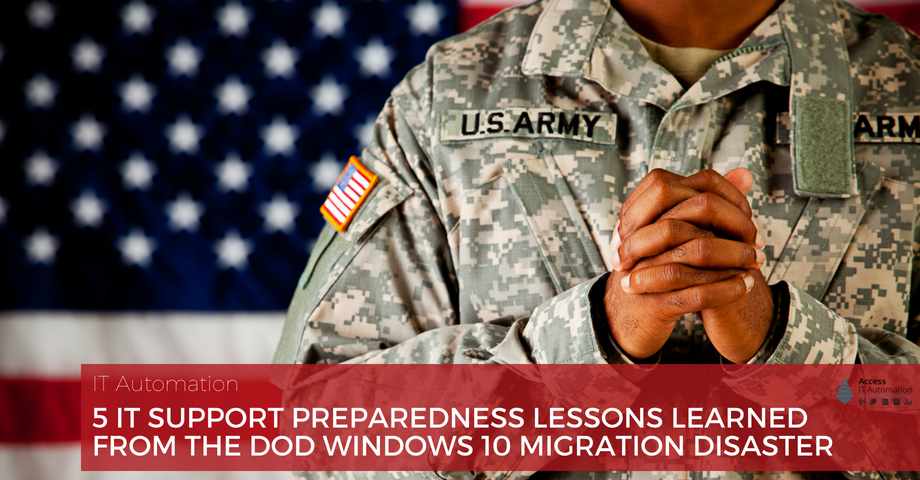 Windows 10 Migration Project & Ongoing Servicing Significantly Increases Your Support Tickets
The answer is simple, yet extremely frustrating: With a normal commercial implementation, you can expect an increase of 85% in your support tickets as you roll out Windows 10 initially. As this usually is managed as a project, your project team has to account for that. However, since the Army isn't standard, many of their IT services are grown from the installation or even the sub-installation level, and a general help desk doesn't have the knowledge or the permission to resolve the tickets.
As an answer to this problem, the DOD has been building a so-called "federated" enterprise service desk to create self-help guides fix what the user cannot fix themselves. However, according to Federal News Radio, the new help desk cannot even manage 10% of their Tier 1 tickets.
While your support problems probably won't be as massive as the ones described above, you can expect a significant increase in help desk tickets. Whether you are managing your Windows migration or service update as a project and have a dedicated support project team or as Business-as-Usual and your IT support has to handle the new bulk of requests, there are things you can do to minimize the stress — leading to a better user experience and less disruption and loss of productivity.
Remember: the goal is to eliminate as much potential for a support ticket to be created before Launch Day.
1) Pay Close Attention To Application Compatibility
One of the biggest holdups in any larger IT Transformation project is application compatibility. On average, an OS migration will touch about 1,500 apps. While most of your software products are probably developed and supported by third-party vendors (which, in most cases, means there will be a free or paid upgrade path available), your in-house developments and some off-the-shelf products will need further remediation.
But before you head straight into lengthy and costly compatibility testing, you should:
Normalize your app estate (sort out what is what and identify any duplicates or redundancies)
Rationalize your apps to the bare minimum (what could you do without; what could be consolidated or retired)
Consider virtualization for some or most of your applications (run them through a quick VDI suitability check to find out how many and which apps can be virtualized).
After you have completed these three steps, you should have significantly cut down the number of applications that need to be tested for compatibility as well as further manual packaging and testing.
2)  Utilize Deployment Rings To Stagger Deployments
Most larger organizations will use the Windows Deployment Ring concept or something similar to stagger their migrations over time. This is something I absolutely recommend doing, even if you just have a thousand seats, and here is why:
Each deployment ring should reduce the risk of potential problems caused by Windows 10 feature updates.
It allows you to better pace your scheduling timeline and avoid having blocks of over- or under-capacity.
If you do have to run multiple Windows 10 Servicing update process cycles at the same time, assigning all of your users to deployment rings and cycling them through an automated, repeatable process makes parallel updates possible.
Here is how it works: Initially, you will have only a few people from IT to evaluate and test the new OS version. This will give you a chance to learn more about the new features and functions and scope out your project better. Next, you will be rolling it out to a few selective business pilot users for more detailed User Acceptance Testing. Once this is completed, you can roll it out to your broader IT organization.
3) Track Potential Issues Early On
Your pilot phases are absolutely critical for the overall success of your project! Depending on the size and setup of your organization, you might only migrate 2-5% of your overall users in these early phases, but you will want to identify and record any potential problems you possibly can here. 
The goal is to catch as many potentially large problems as early as you can with a few users. This enables you to fine-tune your rollout process while the majority of your users stays productive. Once you move into broader deployment, you will have ring-fenced the vast majority of issues already. You can do that by automating your UAT process and tying it into a help desk feedback system that records all the discovered problems. 
Once you are tracking issues and recording your UAT sessions of each application, you can affirm the compatibility of each application on each new Windows 10 build release as part of your Windows-as-a-Service management. 
4) Create/Identify Fixes For Known Issues
Once you have identified your potential hiccups, you can either go back and re-do the core image (which can be very tedious and lengthy) or develop a repository of automated fixes. These can be applied by your team in the background as the migration is happening or the user can apply them (should an issue occur) by clicking on a link in a knowledge-based article that will execute a fix automatically.
5) Prepare Your Help Desk
Last, but not least, you will need to assume that, for an initial migration, your ticket volume will increase by about 85%. Once you are on Windows 10, all subsequent feature updates should only result in 20-30% more tickets on average. Keep in mind that this is an average and can vary depending on your infrastructure, how tightly you manage your applications, and how many obstacles you get out of the way before deploying to your entire organization.
Therefore, you will need to budget for expenses as well as staff and train your IT support team accordingly. If you are transitioning your Windows 10 updates into your Business-as-Usual team, your regular support team will most likely have to pick up the extra workload. It is very easy to forget the post-migration to-dos while you are in the throw of it all, but these issues can cause major business disruption and loss of productivity!
Next week, we will have a look at how you can use IT automation to prepare for Day 1 of your Windows 10 migration, so stay tuned.