A few years ago before Access IT Automation was founded, I had a very insightful conversation with a Head of Client Services of one of the big service integrators in my role as the CEO of Access, our IT Managed Service Provider.
This conversation stuck with me all these years because it addressed an all-too common pain point all SIs are struggling with: having "warm bums on seats" isn't a scalable business model to keep pace with the ever-accelerating velocity of IT transformation!
On the contrary, Service Integrators find themselves stuck in a situation where customers are demanding innovation to drive real IT transformation, and simply hiring more people won't cut it.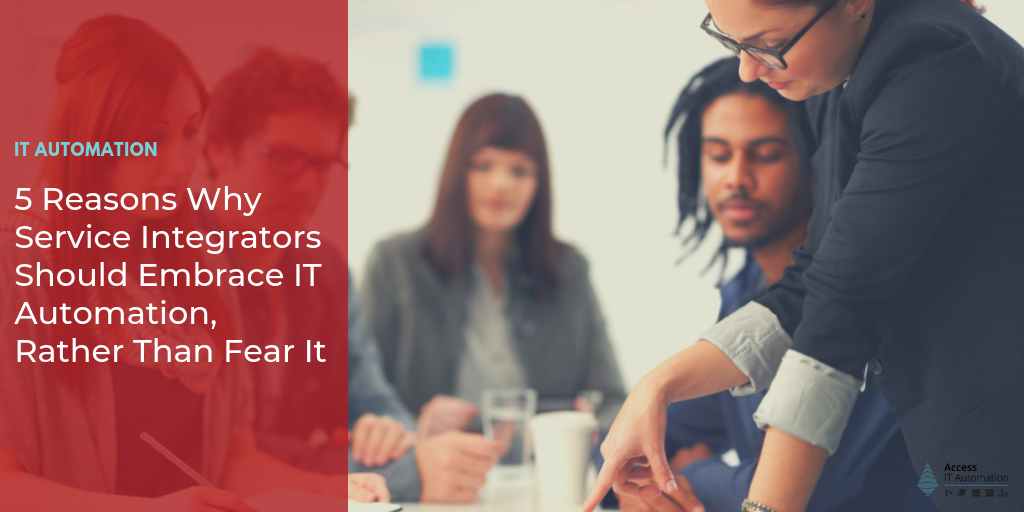 While some service integrators blame the advance of IT automation for this development, some innovative early adopters see the advantages it provides them as an integral part of their service portfolio delivery and fully embrace it. Today, I want to share some of those benefits with you in the hopes of sparking some thinking about how you to can employ the power of IT automation in your consultancy.
1. Increased Agility
Probably the number one reason why enterprises hire a service integrator or outsource in the first place is time savings. They don't have the amount of resources and skills in-house needed, for example, to manage Windows-as-a-Service updates or provide IT support to thousands of shops located all over the country.
Enterprises expect to sign the dotted line and see their newly hired SI go off to the races. But we all know it isn't that simple. First, there is a lengthy on-boarding process and a knowledge transfer phase to get through. Then ramp-up and assigning resources takes a while and, before the first numbers are on the board, several months have gone by.
However, IT change has accelerated at an unbelievable rate in the last few years and time is of the essence when it comes to IT transformation. By deploying IT automation, service integrators can not only significantly shorten the initial ramp-up phase (e.g., by using an automated certification process to determine application suitability for a new target platform), but also delivery down the road (e.g., by automating up to 91% of their application packaging and testing process). Instead of manually packaging and testing thousands of applications, your team can now manually remediate only those that need it — often cutting your workload by 60-80%.
2. Faster Response Time
Another important reason is fast response times. Every time your team receives a support call, your client's employees lose productivity and therefore revenue. We recently spoke with an SI that provides blanket-support for thousands of client locations — resulting in tens of thousands of support calls a month.
About 3,500 of these calls cannot be resolved remotely and the SI has to send a support engineer to the client location to fix it. This means, once the support call comes in, gets escalated, and is assigned someone to travel to the location, several hours or even a day has gone by — resulting in tangible lost revenue.
By offering endpoint automation, this SI could offer self-service automation that would empower the employees to run through a workflow-driven wizard and fix most problems by themselves within minutes. Based on our experience, this means that most of the initial Level-1 support calls could be resolved before contacting support and more than two thirds of the escalated calls would not require an onsite call. If you do the math, you can easily imagine the vast cost savings per month!
3. Increased Profitability
One of the most important key performance indicators for a timesheet-based, man-power driven business model is profitability. By deploying IT automation in strategic areas, you can significantly increase your profitability by streamlining your business processes, creating project frameworks for repeated cycles such as Office 365 or Windows 10 upgrades, and lowering your human error rate.
In addition, you don't get bogged down by tedious, labor-intensive, manual tasks (e.g., breaking down and rebuilding new test environments for your User Acceptance Testing) anymore, as they can be automated. This frees up your resources to work on higher-value jobs, hence increasing your profitability.
4. Pass On Some Of The Cost Savings To Your Clients
With enterprise IT budgets stagnant or slower growing than required to manage the ever-growing complexity of today's IT environments, money is always tight. This fact makes larger organizations rethink the decision to outsource and consider pulling certain jobs that can be automated back in house.
By showcasing how you strategically use automation to not only accelerate the delivery but also save your client some cash, you are positioning yourself as a strategic partner that has his clients' best interest at heart! Often, enterprises are all too happy not to have to make the switch back to in-house if the savings are there.
5. Competitive Advantage
Last, but not least, having IT automation as part of your tool belt gives you a competitive edge! Not only are you answering your customers' demand for automation, but you prove that you are innovative, cutting-edge, and future-proof!
Show your clients how you will use IT automation and the insights it provides you with to achieve quick wins by strategically tackling the lowest hanging fruit first. Also, this allows you to increase your customers' confidence that you will deliver on time and on budget.
Getting Started
The best way to get started is to schedule a quick 30-minute conversation about your unique situation and to learn how IT automation could help you.