Over the past years, Access Capture has helped organizations around the world package and test applications faster, safer, more accurately, and more efficiently in an enterprise environment by automating much of the labor-intensive, costly, and tedious process.
In October 2019, we released Access Capture Version 3 which included many feature and platform improvements. We were thrilled how well it was received so we cannot wait to share with you some details on our jam-packed development calendar for 2020.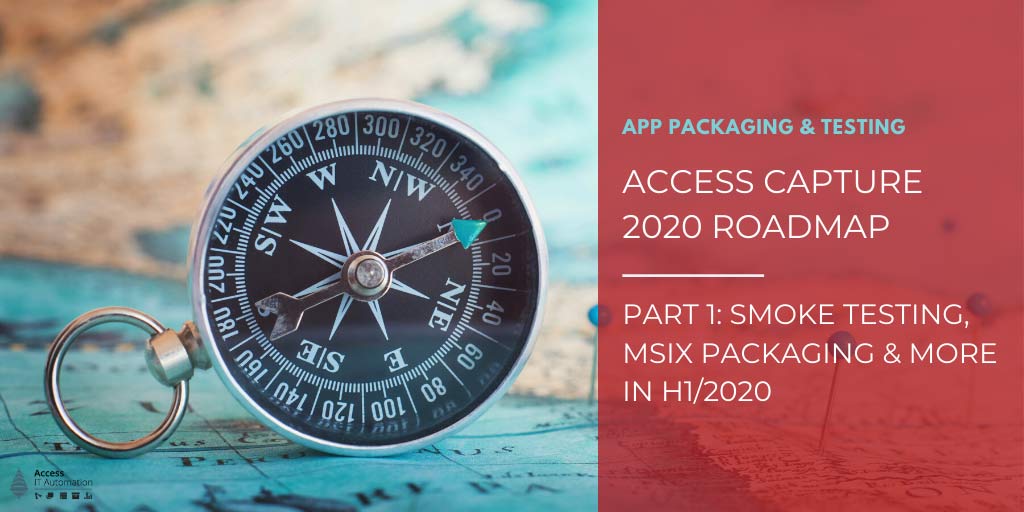 Please note: All Access Capture Feature Updates (Version 3.1 to Version 3.9) can simply be opted into — no extensive roll out or upgrading necessary.
Q1: VM Client (Version 3.1)
For Access Capture Versions 2 and 3, every virtual machine has to have one of three specific clients installed, be it a discovery client, a packaging client, or a UAT client. In Q1/2020, we will combine these three clients into one, making it more versatile, more flexible, and better in terms of utilization.
This means that instead of creating a pool of discovery machines, a pool of packaging machines, and a pool of UAT machines, you can now have a pool of machines that can be used for all three purposes. Consequently, you end up with only a third of virtual machines that can be constantly getting rebuilt or completely trashed and re-imaged as needed.
Q1: Smoke Testing Capabilities (Version 3.3)
Later in Q1, we will be adding our new smoke testing capabilities. Smoke testing, also sometimes called confidence, sanity, or build acceptance testing as well as build verification testing (BVT), allows application testers to find failures in preliminary tests that could lead to making decisions about the future of the applications. This is useful when testing applications for Windows 10 or Office 365 capabilities as it checks for the most important functionality quickly and easily — making it an important testing mechanism for Evergreen IT environments.
Access Capture's smoke testing is video based rather than screenshot based. Should the application fail, video recording stops automatically. This will pinpoint the point in time when the application failed. In addition, you can download log files and much more.
The nice thing is that you can do this in bulk. You might have a set of 20 apps (core applications like Adobe Reader or Office-based apps rather than business applications) that you continuously test from one build version to another.
In addition, the smoke testing feature provides you with extra performance details on your applications installing, launching, performing a function, closing out, and uninstalling. This allows you to quickly test the performance of a set of apps on various platforms to decide which is more suitable for your environment.
Q1: ServiceNow Integration
We haven't been very public about our ServiceNow integration until now but our customers might know that Access Agent and Access SignOff already integrate with ServiceNow. Access Capture now formally integrates with ServiceNow as well, and further details on this exciting step will be revealed in the coming weeks — so stay tuned.
Q1: MST Creation
Also scheduled for Q1 is the MST Creation feature. This has been on our to-do list for a while and now we are making it a priority as we found that this is a very useful feature for our customers. For example, if you have a core application like Adobe Reader, you might want to wrap your internal standards around it, such as naming convention.
Starting in Q1, Access Capture will enable you to quickly wrap your corporate standards around a third-party application without needing to do a complete repackage. Technically speaking, the MST is the output (transform file) after Access Capture has wrapped the standards around your MSI file.
Q1: Citrix Publishing Integration
Access IT Automation already offers publishing applications by SCCM and via Management Console, but some of our clients want to be published by Citrix as well. In Q1, we will be adding Citrix Publishing Integration as an additional option.
Q2: MSIX Packaging (Version 3.5)
Much of our Q2 development work will revolve around MSIX based on our work with Microsoft over the past 12+ months. With this new feature, your clients can consume partial commands and snapshots of a machine to create an export on an MSIX package rather than MSI or AppV. Much more to come on that subject very soon (various detailed blog posts and a webinar), so stay tuned!
Q2: WVD Integration (Version 3.7)
As you might know, Access IT Automation is already enabling its customers to manage virtual machines in VMware, manage virtual machines in Hyper-V, and manage virtual machines inside Azure.
Soon, we will add a Windows Virtual Desktop (WVD) integration to that list. WVD enables organizations to virtualize their Windows OS using Azure, which allows them to virtualize desktops and applications in the cloud. With all the internal development and the recent FSLogix acquisition, we believe WVD will become a key piece in the Modern IT puzzle.
Q2: Microsoft Intune Integration
Another great feature coming out in Q2 is the new Microsoft Intune (now part of the Microsoft Endpoint Manager) integration. While we already offer SCCM and App-V management consoles, Access Capture will be able to link directly to Microsoft API's in order to integrate with Microsoft Intune.
Conclusion
There are a lot of exciting features in the pipeline for the first half of 2020 — many of which are future-proofing your investment in Access Capture, making your application packaging and testing even more scalable, and enabling you to embrace Evergreen IT faster.
In the next few months, we will share detailed release notes as well as demo any new features in our upcoming webinars. So, be sure to sign up for our blog notification emails as well as the webinars to stay up-to-date!