Access IT Automation has partnered with industry leader ReadyWorks to automatically reduce IT cost and risks associated with Windows servicing.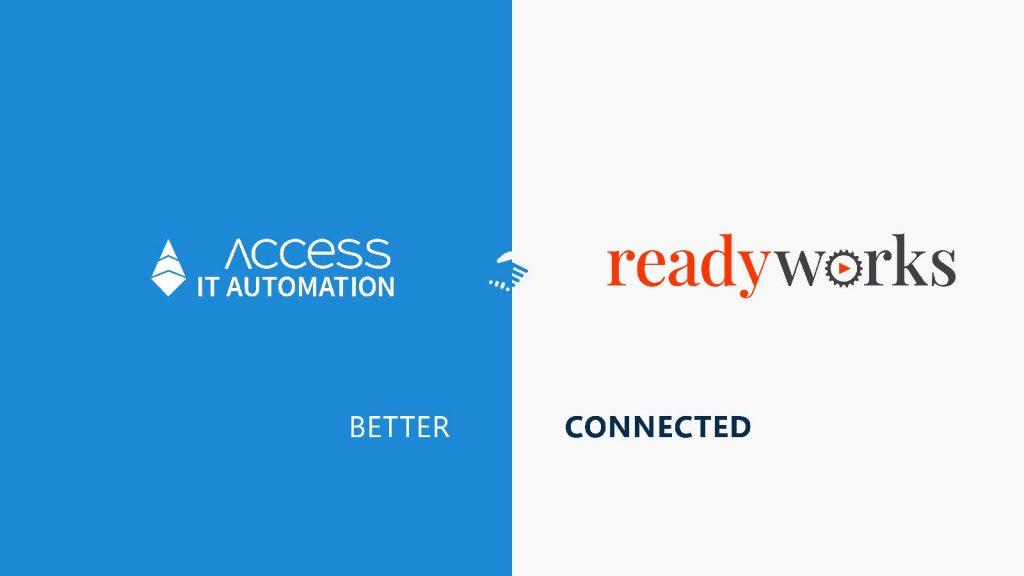 Access IT Automation, an industry leader in automated application packaging and testing, endpoint management, and IT visualization is thrilled to announce its latest technological partnership with, ReadyWorks, a digital platform conductor (DPC) that leverages AI and intelligent automation to reduce the risk and cost of IT infrastructure transformation.
The partnership looks to combine ReadyWorks' data integration, analysis, workflow orchestration and automation – with Access IT Automation's application packaging and testing, giving enterprises the ability to fully automate the process of Windows 11 upgrades and servicing, saving time and cost, improving productivity, and causing minimal business disruption.
Access IT Automation CEO, Tony Head, has expressed his enthusiasm for the partnership, allowing both parties to offer cutting-edge automation services to clients, helping them continually improve employee efficiency, security, and performance.
"Our emphasis on automation enabling modern desktops has allowed our users to work their way, with simplicity, flexibility, and mobility, empowering IT professionals to ensure security and compliance are automatically handled, values closely aligned to ReadyWorks.
Our partnership with ReadyWorks gives us the opportunity to utilize their experience in Windows Servicing and allows us to provide customers with a smoother transition to Windows 11. We have learned that by working collectively we can help enterprises manage ongoing Windows updates with minimal fuss, and I can't wait to see the results of this partnership."
With 73% of organizations worldwide now using automation technologies, and 23% of workers have seen positive transformations within their roles and ways of working because of the implementation of intelligent automation, the role of automation for Windows Servicing, is evident.
This technological partnership encompasses how both parties can create positive change for enterprises when dealing with Windows servicing, creating a more dynamic, efficient workforce. Our combined focus on automation utilization can help increase infrastructure stability and allow businesses to utilize the latest Windows updates to continue to innovate at speed and scale while keeping employees working productively and efficiently with minimal business disruption.
"Understanding application compatibility with the latest Windows version is critical to minimizing business disruption during the migration process," said Andrew Sweeney, ReadyWorks Co-Founder, and Co-CEO.
"ReadyWorks connects to other IT and business systems to analyze information about endpoints, users, and applications, identifies risk and readiness, and automates the tasks needed to complete the migration – everything from end-user communications to scheduling to giving the command to other systems to execute the upgrade once all readiness criteria are met. Access IT Automation integrates very nicely into this process by automating the testing of these applications and then communicating to ReadyWorks that an application has been tested and will work with the latest Windows version."
By enabling Windows 11 together, Access IT Automation and ReadyWorks are helping enterprises become better connected and pulling together best-in-class technologies to help increase process efficiency whilst decreasing downtime and IT frustration. Access IT Automation is looking forward to continuing to help each other innovate and grow into the future.
About ReadyWorks
ReadyWorks is a digital platform conductor (DPC), an emerging technology that leverages AI and intelligent automation to reduce the risk and cost of IT infrastructure transformation. ReadyWorks fully orchestrates complex IT infrastructure transformation programs and provides companies with a way to ensure business continuity as these programs are carried out. Unlike legacy infrastructure management tools, which create data silos and introduce risk into IT programs, ReadyWorks serves as a central command and control platform to orchestrate these tools to deliver transformational business outcomes. The platform analyses information about the entire IT estate – endpoints, users, applications, and all their interdependencies – defines the rules for change, and uses AI, machine learning, and intelligent automation to implement those changes. ReadyWorks provides IT teams with a holistic view of the environment, how future changes will impact that environment, and how and when those changes should be made so that users and business operations are not adversely impacted. For more information, visit www.ReadyWorks.com.