As more organizations look to their CIO to lead the company's Digital Transformation efforts, the traditional role continues to evolve to fill this growing responsibility.
To get a clearer picture of what this shift will look like, Gartner recently surveyed over 3,160 CIOs from 98 countries representing approximately $13 trillion in revenue/public sector budgets and $277 billion in IT spending.
The message was loud and clear: 95 percent of these top-tier technologists expect their jobs to change significantly in the future due to digitization. As IT management is taking up less of the CIO's time, the executives see themselves as a change leader in addition to "assuming increased and broader responsibilities and capabilities".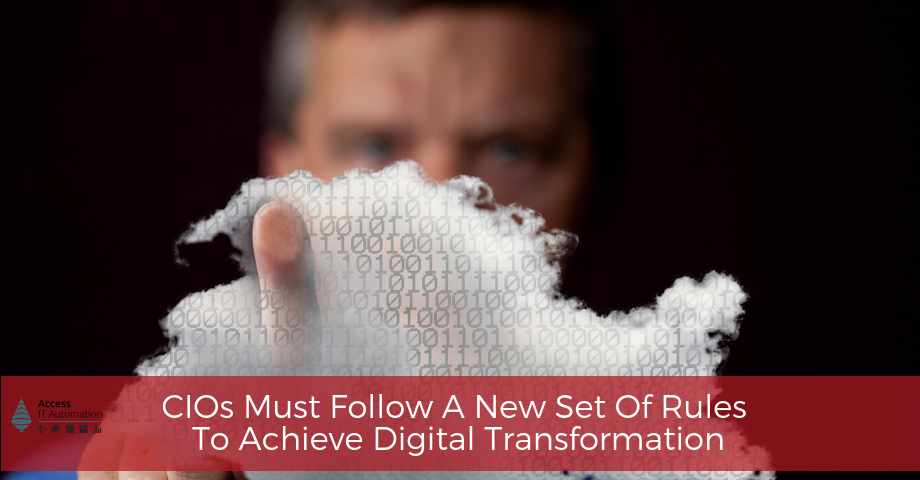 Part of this shift includes the increasing importance of and emphasis on the CIO as driving business decisions as well as the technology world that he or she traditionally inhabits, the wider penetration of Artificial Intelligence, Big Data and analytics, as well as the insistence of customers upon a customized journey.
This requires CIOs to rethink traditional KPIs that are more process-oriented, follow a new set of rules in order to achieve the digital transformation, and look for new ways to measure their organizational success. 
Traditional KPIs That Quantify IT Value
Determining the value that IT teams contribute to their organization includes a vast array of metrics — often broken down into organizational and operational key performance indicators (KPIs). In general, operational KPIs address the availability of key systems while financial measures determine whether or not budgets are being accurately projected and utilized.
Long-established operational measures can include s

ystem and network availability, overall downtime, lost calls/queue times, Help Desk satisfaction index, ticket handling and resolution times, backup and restore success rates, problem resolution rate, security compliance and preventative maintenance backlog

Organizational measures are often similar for CIOs: 

FTEs as a percentage of total staff capacity, costs of operation for Help Desk or Service Desk, expense reimbursement cycle time, average third party rates, average training hours per employee, productivity rate and downtime due to vendor management
While these metrics are still quite valid measures of technology effectiveness, they do not address the innovation and new technology introductions that are vital for today's organizations to remain competitive and to thrive.
Adapting for Digital Transformation
However, for the road ahead, CIOs must orient themselves along a new set of rules — as this handy infographic  "Transformation Masters: New Rules Of The Road For CIO Leadership" shows:
(Image Credit: Enterprises Project, 2018)
CIOs that are unable or unwilling to make a change in their mode of operations or measurement metrics risk being perceived as irrelevant and unable to change. On the other hand, Chief Information Officers can be leading the digital charge, providing corporate strategy and showing their fellow C-suite leaders that they can see beyond the Help Desk and incremental process improvement.
Fundamental change requires not only the introduction of new technology but also a new culture to the organization as well as a new set of language tools — or metrics — to assess the effectiveness of various initiatives. Navigating during disruption is a special skill set, and one that should be nurtured in CIOs as they take the reins in order to achieve transformative change.
Case Study: Land O'Lakes Revamps Their KPIs To Shift Focus Towards Innovation
Land O'Lakes is certainly a large organization, but not necessarily one that you would consider a leader in the digital space — until recently. In 2013, Mike Macrie, a new type of CIO, took the helm. He began leading the company through a period of rapid change that fundamentally shifted the way the organization approached their success measures.
While traditional KPIs are centered around the reduction of costs and the optimization of scarce resources, these measures can be at direct odds with technology ROI. Macrie found that quality, efficiency, and cost were still incredibly valuable, but they needed to be balanced with market share, customer satisfaction, conversion rates, and gross margin.
One of the ways that Macrie decided to work outside of the current structure was to separate the teams, metrics, and funding mechanisms in order to release the strictures on resources created by traditional measures. He could see that allocating the additional funds on talent and creativity would boost longer-term ROI — a move that would have been difficult without the support of the full leadership team.
As the Land O'Lakes technology team shifted their focus to innovation, they were able to become much more entrepreneurial and agile in their development practices. The momentum continued across the organization as business leaders saw the value of this direction.
Business Intelligence and data insights are now being utilized to connect the CIO to various parts of the organization — with the CIO being judged not on the services that he or she builds, but on how well he or she integrates and adds value for the rest of the organization.
Conclusion
From technology sprawl to organizational silos, CIOs will continue to face challenges in their daily work. Organizations are more structurally complex than ever before, but a shift in measurement can allow top IT professionals to more effectively grow their reach and drive true and lasting change.
Defining a strict set of KPIs that capture the role of innovation within the organization can be challenging, but starting with ROI allows CIOs to justify their ongoing investment in creative, forward-thinking partners and staff as well as the flexible, scalable technology solutions they are defining.