When considering endpoint management automation, it is hard to know what you are getting into. There are various solutions that all have a slightly different angle and focus. Oftentimes, it is only afterwards that you realize you should have paid more attention to a specific feature that turns out to be crucial or made a certain integration a must-have requirement in the Request-for-Proposal process.
But one thing is for sure: you will want to make sure that you pick an IT automation solution that is future-proof, scalable and agile enough. In the past few years, I found that it really comes down to four main considerations:
Your new solution needs to integrate with your existing infrastructure to provide an end-to-end solution.
It needs to be extremely flexible and customizable to fit your needs — today and in the future — while centralizing fixes in an ever-growing repository.
IT automation should also allow smart targeting by a large range of filters to enable you to apply automation to a few, to most, or to all of your devices.
Lastly, it should be easy to use for your administrative staff as well as your end users to encourage adoption and wide-spread usage.
Let's have a closer look at each of those points below.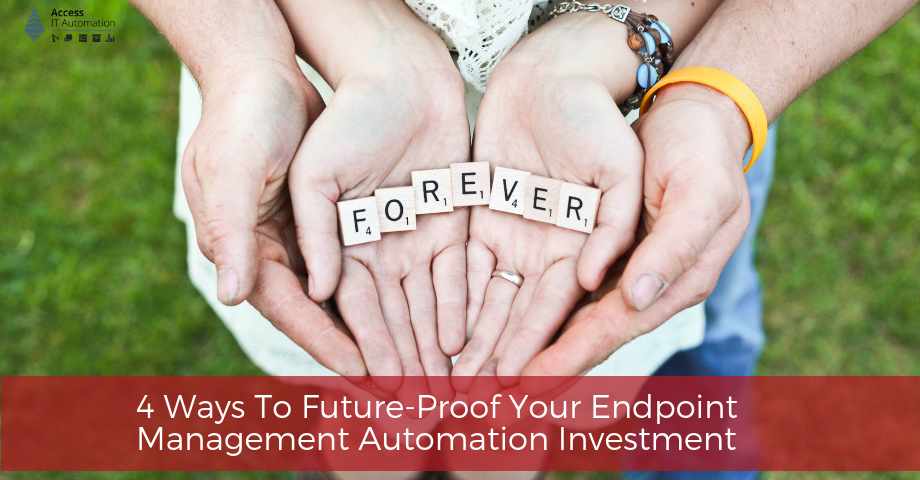 It Needs To Integrate With Existing Systems To Provide An End-to-End Solution.
Over the years, many enterprises have acquired fragmented bits and pieces of infrastructure monitoring and management solutions, like ServiceNow and SysTrack, which allow you to gain deep insight into your end-user environment to minimize productivity loss.
However, while they collect and analyze a vast amount of data, the majority of organizations doesn't have a clue what to do with the monitoring output other than manual intervention through the IT team. Your IT automation solution should allow you to integrate with popular systems and provide opportunities to automate the next steps based on the output that other monitoring systems have created. Otherwise, you will just add yet another isolated and siloed agent to your infrastructure landscape.
Before short-listing your IT automation solutions to consider, think about what infrastructure you already have in house and how their output is currently used. For example, do you have a workflow for when a predefined threshold is reached or a productivity loss event occurs? If your system raises an alert, does it trigger an action in your SCCM? Can you integrate it into your application packaging and testing workflows (one of the biggest bottlenecks in keeping your assets up-to-date)?
So, be sure your new IT automation tool provides you with an end-to-end solution. 
Provides Flexible Ad Hoc Automation & Centralized Repository Of Fixes
When it comes to endpoint management automation, there are two types of automation scenarios: ad hoc script (e.g., logon script) and scheduled workflows.
While it is crucial for any IT automation solution to be extremely flexible when it comes to running ad hoc scripts, if not properly managed, it will quickly become extremely chaotic — making it hard for your IT staff to manage. This often leads to conflicts and slow response times if anything needs to be changed or updated.
By choosing an IT automation solution that manages all fixes in a centralized repository, you are not only building a library of common fixes over time (which prevents you from re-inventing the wheel and writing new scripts every time), but you are also ensuring that you know exactly what automation you have running at any point in time. For example, you can look up, plan for, and reschedule regularly executed automation (e.g., every Saturday night at 3 a.m.).
In addition, you can (and should) integrate your fix repository with your corporate knowledge base — giving end users self-service access to appropriate fixes that they can execute themselves without having to create an IT ticket first. Lastly, look for a solution that gives you predefined fix scripts for the most common problems out-of-the-box, helping you to cut down on set-up time.
Allows Smart Targeting
Endpoint automation is only as good as the segmentation it allows you to perform.
Cyber attacks are a great example of the importance of smart targeting. For example, the WannaCry ransomware cryptoworm targeted computers running the Microsoft Windows OS with specific configurations by encrypting data and demanding ransom payments. If you were able to instantly identify and isolate the exact endpoints that could potentially be targeted, you could prevent the ransomware from spreading, and could update any at-risk devices with the patch once released.
Other scenarios include rolling out a certain fix, application, or other automation to a specific device type (e.g., laptops only), department (e.g., marketing only), location, or a combination of specific criteria (e.g., VDIs in the United Kingdom only). Look for solutions that can integrate with your HR and other internal back-end systems to increase your smart targeting potential.
Is Easy-to-Use For IT Admins & End Users
Last, but certainly not least, ease-of-use is critical for the adoption and continuous usage of any software product, but especially for endpoint management automation. Look for a product that has an intuitive user interface and management console for IT admins, but also for end users. With the increasing importance of Evergreen IT, be sure to select a tool that offers your business users a wizard-driven self-service option. This will not only reduce the number of support tickets created, but will also increase productivity and enable you to become an agile IT-as-a-Service organization.
Conclusion
Choosing the right endpoint management automation solution isn't simple, but is critical. Ideally, it will have an enormous impact on your team's support performance, e.g., ticket turn-around times and first-call resolution rates, your IT environment's health and stability and therefore on your organization's productivity and bottom line — resulting in a positive return on investment.