There's no denying it: If you are a Microsoft shop, it is very likely that your organization is going to migrate to Office 365 sooner rather than later. The SaaS version of the Office Suite has so much more to offer than the on-premise version, i.e., newer features, enhanced security, stability fixes, etc.
Whether your enterprise is updating because your on-premise version (Office 2010) goes end-of-life next year in October, or you want to take advantage of features that your version (Office 2016 & 2019) doesn't have, you can run into roadblocks that will bring your migration to a halt.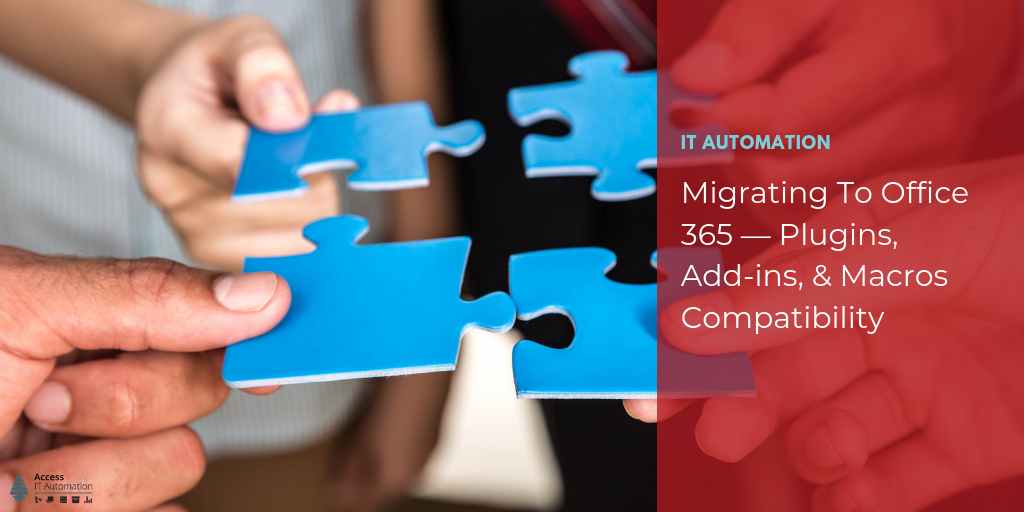 Common Issues When Upgrading To Office 365
While the benefits of upgrading to Office 365 have been covered many times, there is much less information available on the potential issues you might run into when upgrading and maintaining Microsoft's cloud Office suite. Below is a list of the most common issues you should be aware of:
Incompatible macros, add-ins, and plugins in Excel, Outlook, etc.
Custom apps that have the on-premise version path hard coded, i.e., Word template merged to Outlook (The Office 365 install folder path is different, resulting in multiple packages for same add-in)
App-V dependent application/add-in
Customized ribbon add-ins for UX by an enterprise behave differently
Memory drain from add-in order load (Can't change load order on Outlook)
Memory space issue — shared vs. run individually
Performance testing of click-to-run install (Office 365) vs. full fat MSI install (on-premise)
Packaging maintaining current and future state i.e., used MSI, App-V virtual or streaming
Rogue apps, plugins, add-ins with poorly written code (devices not properly locked down by IT to prevent download & install)
Depreciated features in LoB apps
Security changes causing lockouts
While all of these issues seem overwhelming, and it appears easier to upgrade to the on-premise Office 2019, that is a flawed short-term strategy because:
Microsoft is pouring more resources into the development of Office 365 as Microsoft is actively trying to convert its on-prem user base into cloud customers.
The on-premise version keeps your organization from having the newest features and security updates. (When Office 2019 launched, it had fewer features than Office 365.)
It keeps this section of your IT environment stuck in the past, instead of adopting an Evergreen IT strategy, which is the future of your IT, i.e., Windows 10.
Using Access Agent To Manage Your Office 365 Migration & Ongoing Management
Considering the average number of apps, plugins, and add-ins that an average employee has in the Office Suite, combined with all the possible and different configurations between departments, locations, positions, etc., there could be thousands of apps & combinations that need testing. Therefore, breaking an organization down into groups ranging from "ready to upgrade" to "needs some testing" to "needs extensive testing" is key.
Using Access Agent, you can have a live catalog of all devices on your network, which version of Office they are running, and which apps, add-ins, and plugins are installed. Combine that data Access Agent gathers with a catalog of known apps and their known compatibility with Office 365, and you have a list of devices that are either ready to be migrated immediately (easy win) or in need of testing.
For apps that are not compatible, or where compatibility is not known, further testing will be required. However, that can still be the majority of your IT estate. With Access Agent creating a database of devices and the apps they are running, you can target the top few apps that are running on a majority of devices to be tested.
After testing, if a fix is needed that can be deployed on the device, using Access Agent and Access Capture, you can identify the machines, send the fix, and have an updated database of machines ready to be scheduled for upgrade to achieve maximum velocity.
What About Microsoft's Office 365 Readiness Tool?
Microsoft has created an Office 365 Readiness tool which you can read about here. While this tool can be useful, it will not give you the full picture. Since it doesn't provide a solution for App-V, it can give false-positives for machines ready for upgrade, which in turn can cause a major disruption if these were LoB critical.
That's why we integrated with the readiness tool and added our own logic on top of it to find virtualized applications and to report on them, to give a fuller picture of your IT estate. Since Agent is constantly running updates, gathering telemetry on devices, and cataloging it, this extra level (on top of Microsoft's tool) gives you more machines that are ready for migration.
Conclusion
With Office 2016 and Windows 7 both going EOL in 2020, enterprises are finding themselves not only having to do big-bang migrations, but also being put in a cycle of constant upgrades, known as Evergreen IT.
Enterprises need to automate the time-consuming, labor-intensive parts of this process, like inventorying and cataloging machines, deploying fixes, and understanding your IT landscape. Otherwise, they risk running apps that are not supported and therefore pose huge security risks, or having line-of-business critical apps be incompatible and fail, bringing efficiency down or even halting work altogether.