With the release of Windows 10 2004 a few weeks ago and with MSIX AppAttach in public preview, Microsoft will soon start to incentivize customers to move to its new installer technology for Windows, MSIX. MSIX is set to replace the very popular Windows Installer (MSI) and the APPX packaging format that were previously used for Microsoft Store apps.
In the past 12 months, we looked at MSIX readiness for adoption (back in December 2018, I said it would start being ready for enterprise adoption in mid-2020) as well as laid out Access Capture's strategic roadmap to MSIX, which talked about Access Capture being able to automate the conversion of your legacy MSI and AppV apps to MSIX by Q4/2020.
Currently, MSIX can be used by devices running Windows 10 1803 and up, but what happens if you are still running some Windows 10 1709 or lower in your estate? That is where MSIX Core comes in!
What Is MSIX Core?
MSIX Core, available for download since December 2019, is the stripped-down version of Windows 10's MSIX application packaging technology that helps organizations running some Windows versions that don't natively support MSIX by enabling them to utilize MSIX distribution of any MSIX created applications. Those versions specifically are:
Windows 7 SP 1
Windows 8.1
Currently supported Windows Server (with Desktop Experience)
Windows 10 versions prior to 1709
In other words, MSIX Core enables the installation of MSIX apps on previous versions of Windows, provided that the apps are already built to work on those versions of Windows.
Because MSIX is not the default installer for these Windows versions, MSIX Core has to be locally installed to those devices as an additional software, but because much of the MSIX goodness relies on the built-in OS components, MSIX packages will install in Windows 7 similarly to an MSI.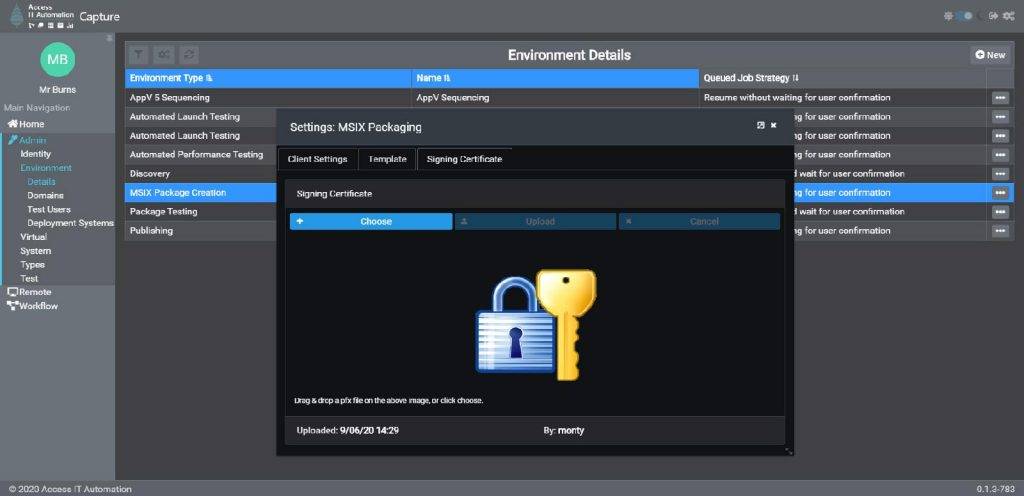 The screenshot above shows the new Access Capture MSIX Conversion Automation Module. MSIX requires that all applications created are digitally signed which is a huge benefit of MSIX. Even this part of the application package creation can now be automated.
Why Consider MSIX Core?
MSIX has many benefits for organizations. It allows developers to package apps without IT having to repackage them for deployment, and allows IT to customize apps without further repackaging. Regardless of the Windows version, MSIX enables organizations to use one package for all versions of Windows and it allows IT Pros to separately update modification packages and apps.
These and other advantages make a broader adoption very likely. Yet, without backwards compatibility, larger Microsoft customers struggling to keep their estate upgrades to the latest version of Windows 10 wouldn't be able to benefit from it — slowing adoption. MSIX Core circumvents this issue until they are ready to upgrade.
MSIX Core is useful to developers and IT Pros alike. For example, developers can use installers they are currently using to install MSIX packaged applications on older Windows versions utilizing the MSIX Core Library — meaning they only need to create one MSIX package for all of their users rather than having to create multiple versions to target specific OS.
By downloading the MSIX Core Installer, IT professionals can use command line installation of MSIX in addition to the double-click install of MSIX packages.
What Does MSIX Core Not Provide Compared To The Full MSIX?
While MSIX Core is extremely useful to organizations with diverse OS installations, it does not provide the full breadth of benefits that come with MSIX. According to Microsoft, MSIX Core "does not provide the container benefits of native MSIX", nor does it "enable an app that uses Windows 10 specific features to work on previous Windows versions."
In addition, app execution aliases will only work from Win+R (not from Command Prompt or PowerShell) when using MSIX Core on older Windows versions. It also does not support Microsoft Store integration but there is documentation available for developers who wish to publish to the Store.
Looking Ahead
There is no doubt in my mind that MSIX will make tremendous strides both in added functionality (Microsoft has shown to already incorporate a lot of customer feedback and requests for features to the new packaging technology) and enterprise adoption in the next twelve months. One much requested feature is the install services along with applications, which is now available with Windows 10 2004.
Most organizations will have started already or are about to start evaluating MSIX — and with it, tooling to convert MSIs and AppVs to the more modern packaging technology. Access IT Automation is proud to have been a member of the Microsoft MSIX Technology Adoption Program for the past 12 months and we are thrilled to give you a first sneak peek demo of our upcoming MSIX packaging automation feature in this on-demand webinar!