A few days ago, we talked about how mature MSIX really is (18 months away) and how it make sense for some enterprises to do a double hop over App-V to ease the transition. Today, I want to take you on a little journey that will take us three years into the future.
While Access CAPTURE does already fully support MSIX as a packaging standard, I want to also show you the most effective roadmap to adopting it enterprise-wide over the next years. The ultimate goal is to have you up and running on a smooth Evergreen IT/Windows-as-a-Service Management path by the end of the first year and all your applications in MSIX by the end of year three.
Your Roadmap To MSIX With Access CAPTURE
As with any big change, the introduction of MSIX caused a lot of excitement, confusion, and doubts. I have talked to many enterprise IT pros since then and the questions are almost always the same: Should we put our App-V plans on ice and jump on MSIX right now? What is the best way to adopt the new packaging standard? If not now, when should I adopt MSIX?
Below, I put together a roadmap to adoption with Access CAPTURE that lays an ideal adoption path based on the information we have available right now. Because the technology is so new, there might be big changes (or delays) down the road, so watch carefully as Microsoft releases their 2019 Spring and Fall Updates for any indication of their progress.
Please note: This roadmap is NOT promising that by Q3/2020 MSIX will be mature. However, it is indicating that, if your organization partnered with us to adopt Windows-as-a-Service and Evergreen IT, by then we expect to have your applications packaged and tested within MSI and App-V formats as part of a WaaS upgrade cycle, and ideally we would like to get to MSIX maturity as it will be able to handle more applications than it currently can by then.
A smooth adoption is dependent upon Microsoft's MSIX maturity level and the ability to go into broad deployment once the maturity levels are reached rather than upon our ability to give you MSIX from day one.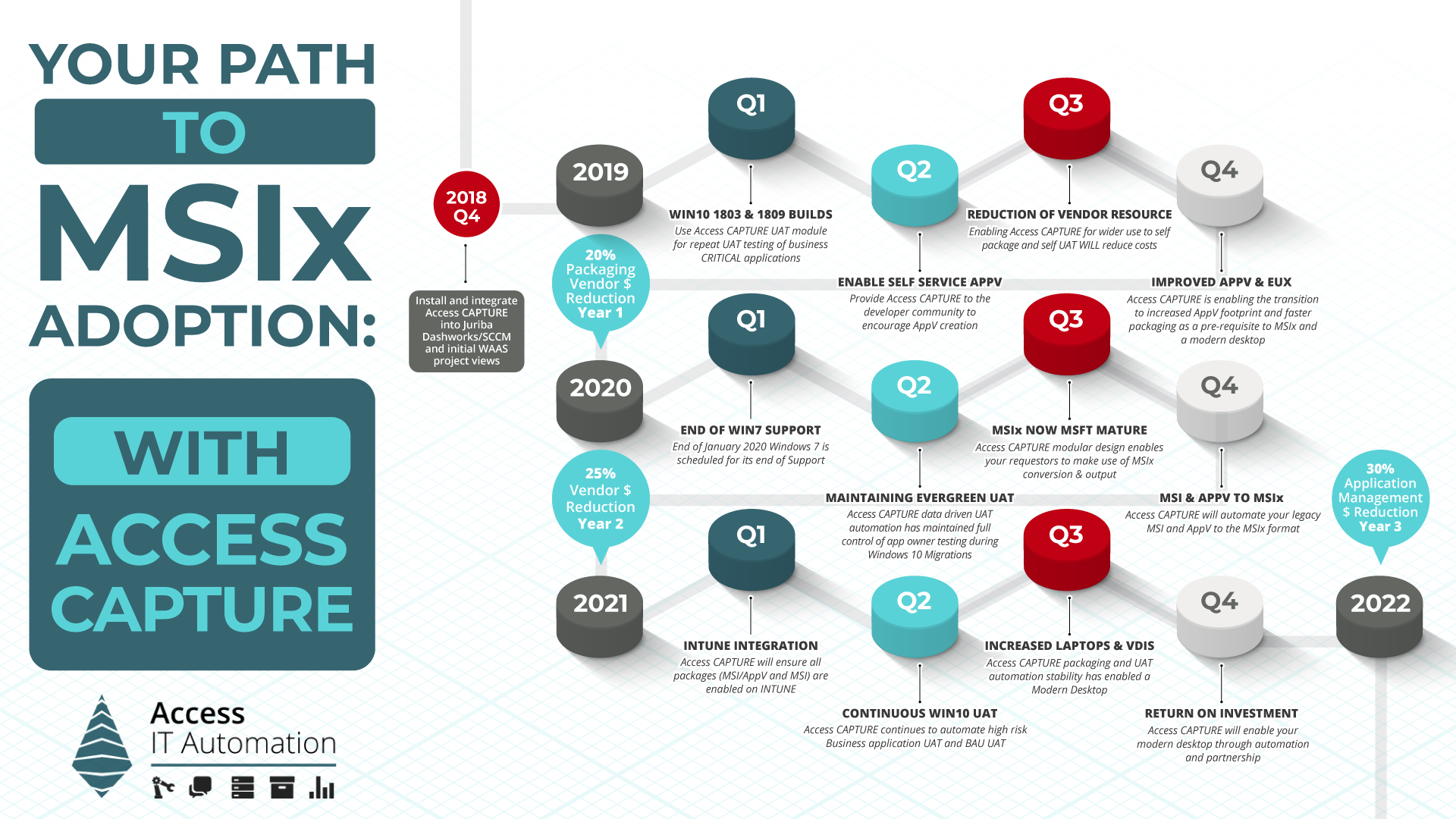 I do recognize that this journey map is rather aggressive as our end goal is to have all your applications in a MSIX state, to have you use Intune, and to have the majority of your apps working for tablet, mobile, laptops, VDI, stateless, and whatever state you need them in within the three years. It is quite advantageous when it has taken 10 years to get App-V working — and it barely works on laptops and VDI, let alone mobile.
Let's walk through the steps together:
Getting Ready
To start your journey, you should install Access CAPTURE and integrate it with Juriba Dashworks, SCCM or other IT Transformation management tools and desktop management solutions you are planning to use to manage your Windows-as-a-Service upgrades and set up your initial WaaS project views.
MSIX support is already integrated within the Access CAPTURE module (e.g., you can create an MSIX with CAPTURE), so you could give it a spin right away, but it also sets you on the right path if you wanted to go to App-V first and then to MSIX in the future. Once you understand the exact state of your application estate, your users and devices, and their migration status, you are ready to go.
Q1/2019: User Acceptance Testing & App Certification
At this point, Windows 10 1803 and 1809 have been released for a few months and your organization should be ready for broader deployment. Now is the time to install the Access CAPTURE User Acceptance Testing (UAT) component to do the certification testing. You could run this as part of the feature upgrade cycle for all your apps or be selective and only retest business critical ones between the different build versions.
Q2/2019: Enable Self-Service To Encourage App-V and MSIX App Creation
In the second quarter of 2019, you could start offering self-service within Access CAPTURE to encourage your developer community to create App-V or MSIX applications. This will allow you to create any new apps using the formats that you are moving towards, rather than creating new apps in MSI and having to convert them afterwards. It also increases your familiarity with MSIX which makes your broader adoption easier.
Q3/2019: Wider Use Of Access CAPTURE To Self-Package and Self-UAT Will Reduce Costs
Because you are already doing repeat UAT testing and you have enabled Access CAPTURE for wider use in self-packaging for months now, you will be able to start reducing your third-party resources or reallocate parts of your internal team to other tasks when Microsoft releases its 2019 Fall Update. This will significantly reduce your WaaS management costs, resources, and cycle time because of the introduction of automation.
Q4/2019: Approved App-V and End User Experience (EUX)
By the end of 2019, we expect that Access CAPTURE is enabling your transition to increase your App-V and MSIX (where possible) footprint and faster packaging as a prerequisite to a "Modern Desktop". As we mentioned before, MSIX still won't be at feature parity with App-V yet, but you have the option to convert those apps that are possible.
Q1/2020: Extended Windows 7 Support Ends
As you enter 2020, you can expect a clearly tangible reduction in dollars spent on packaging — whether this is 10% or 30% depends on your organization, your previous level of automating, estate management and, of course, your level of adoption of the automation solution and your migration strategy. But organizations that fully embrace our solution could expect to be somewhat closer to 20% on average. For many, this means they have broken (or will soon break) even, recouping the cost of the automation solution. 
January 2020 also brings another important milestone: the end of life for Windows 7. Any organizations still using it will need to pay up big time to keep receiving security updates.
Q2/2020: 
Maintaining Evergreen User Acceptance Testing
If you have followed this journey map since Q1/2019, your data-driven UAT automation (Access CAPTURE) has maintained full control of app owner testing. This means you have created a repeatable and scalable process to package and test applications during Windows 10 upgrades and in preparation for other Evergreen IT tasks — resulting in significantly reduced risks! Now you are ready to tackle the just-released 2020 Spring Update. 
Q3/2020: MSIX Is Expected To Be Microsoft Mature
In fall 2020, we will reach a big milestone as MSIX is likely to become Microsoft Mature. Please keep in mind this is an aggressive timeline and Microsoft has not committed to this date in any way. However, based on its progress and the number of enterprises looking to adopt it sooner rather than later, I believe this is possible. Tim Mangan, in his presentation, had a similar timeline.
Because of its greater maturity, it now might make sense to use Access CAPTURE's modular design to enable your requesters to make use of MSIX conversion in the output.
Q4/2020: Mass-Convert MSIs and App-Vs to MSIX
By the end of 2020, you can now use Access CAPTURE to automatically convert all your legacy MSIs and App-Vs to MSIX. Since this process is very automation-heavy, you will see significant reduction in the time and resources required — resulting in an average of 25% in vendor dollars. Please keep in mind that every organization is different, which will lead to variations in actual savings achieved. 
Q1/2021: Enable All Application Packages In Intune
Intune is a huge building block in Microsoft's Modern IT Vision and by the beginning of 2021, you will be able to enable all application packages (MSI, App-V, and MSIX) in Intune using Access CAPTURE.
Q2/2021: Continuous Windows-as-a-Service UAT Testing
As you continue your journey, the benefits you reap increase over time as Access CAPTURE continues to automate repeat high-risk business applications UAT and Business-as-Usual UAT.
Q3/2021: I
ncreased Laptop, VDIs & Modern Desktop
Any company that has a more mobile user base using laptops rather than physical hard-wired desktops and/or is considering a move further towards Virtual Desktop Infrastructure (VDI), Q3 2021 will be a big milestone as MSIX promises to lend greater support to this type of infrastructure than MSI or App-V ever did. By using Access CAPTURE for packaging and UAT automation, you create a stable and healthy environment for the "Modern Desktop".
Q4/2021: Return-On-Investment
You now have arrived at the end of the three year journey map and reached the goal you have been working towards. Access CAPTURE will now enable your modern desktop through automation. By now you have seen, and will continue to see for years to come, return-on-investment as you package and test your applications automatically as part of your Windows-as-a-Service and Evergreen IT management.
Conclusion
While organizations should stay clear of attempting to move their entire app estate onto MSIX and should instead evaluate, test, and play around with MSIX for the next year or so, it is still crucial to define your adoption strategy over the next three years. We hope that our roadmap above will assist you and guide you through this process.