If I would take the conversations I have with our clients, prospects, and partners as an indication, I would say that about 90% of enterprise IT teams are interested in Evergreen IT, but maybe only about 20% of them fully grasp the concept enough to know how to practically implement it. And it is an ambiguous concept unless you take the time to research it. This is made harder by the fact that, besides very few information sources, there isn't much information out there.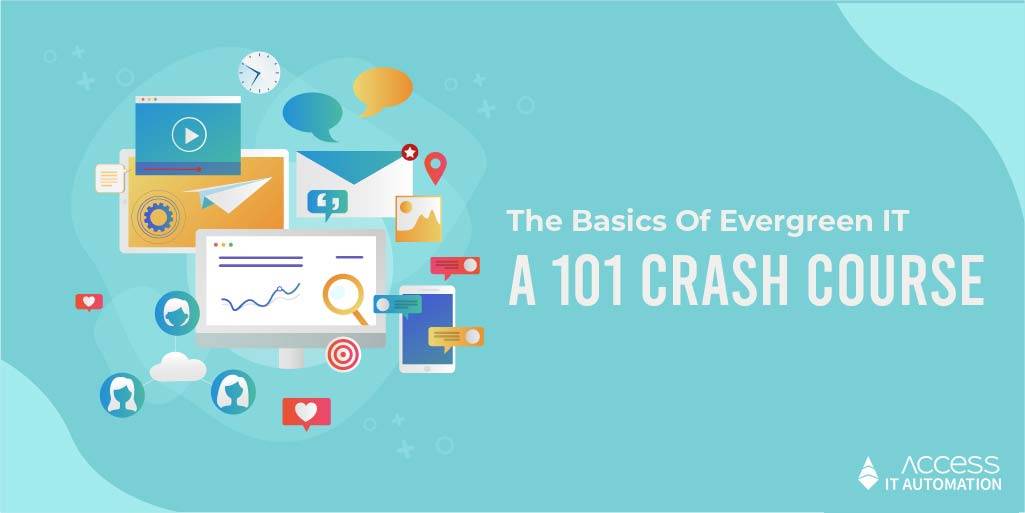 [Click here to get a PDF copy of this article emailed to you.]
Because this is such an important milestone in the evolution of IT management and a huge key to success for Digital Transformation, I want to create a resource for the rest of us. In this article, I will provide the answer to the following questions:
What exactly is Evergreen IT? How do you define it?
Why is Evergreen IT the way to manage IT in 2020 and beyond?
What are typical Evergreen IT use cases or scenarios?
What are the benefits and challenges that come with Evergreen IT?
What does a typical Evergreen IT management process look like?
What strategies must you consider to be successful?
What Is Evergreen IT?
Let's start by defining Evergreen IT. The term and the concept as such isn't brand new. Already in 2009, PwC described Evergreen as the intersection between virtualized end-user devices (as the point of maximum decoupling of the vertical stack) and orchestrated provisioning and management (representing maximum standardization and automation). They divided it into on-premise and off-premise cloud computing.
In a now archived blog, Microsoft defined Evergreen IT in 2015 as the "running services comprised of components that are always up to date. Evergreen IT encompasses not only the services at the user level, but all of the underlying infrastructures, whether on-site or outsourced. Many organizations believe that Evergreen IT holds promise for reducing the resources and energy they need to expend on providing the up-to-date and flexible services that their users are demanding."
Our friends over at Juriba took a more practical approach in their way of defining Evergreen IT:
Evergreen IT is the perpetual migration of end-user software, hardware, and associated services such as mailboxes, telephony, file storage, and the infrastructure supporting the technology. It requires a combination of people, processes, and technology to deliver optimal results, and involves a budgetary and executive commitment to ensuring that no end-user technology is ever more than N-x (x to be defined by each organization) behind the currently available version within a predetermined time frame.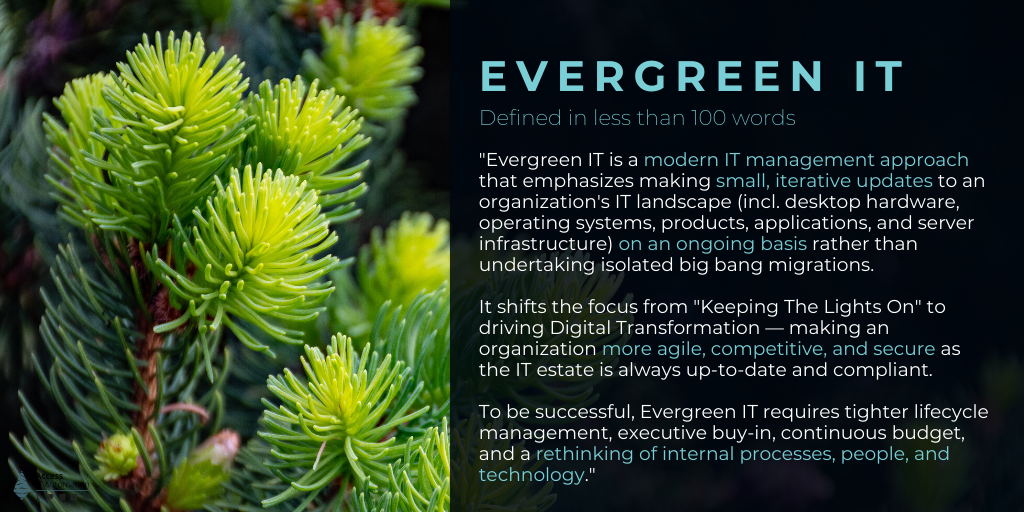 Finally, we at Access IT Automation define Evergreen IT as follows:
"Evergreen IT is a modern IT management approach that emphasizes making small, iterative updates to an organization's IT landscape (including desktop hardware, operating systems, products, applications, and server infrastructure) on an ongoing basis rather than undertaking isolated big bang migrations. It shifts the focus from "Keeping The Lights On" to driving Digital Transformation — making an organization more agile, competitive, and secure as the IT estate is always up-to-date and compliant. To be successful, Evergreen IT requires tighter lifecycle management, executive buy-in, continuous budget, and a rethinking of internal processes, people, and technology."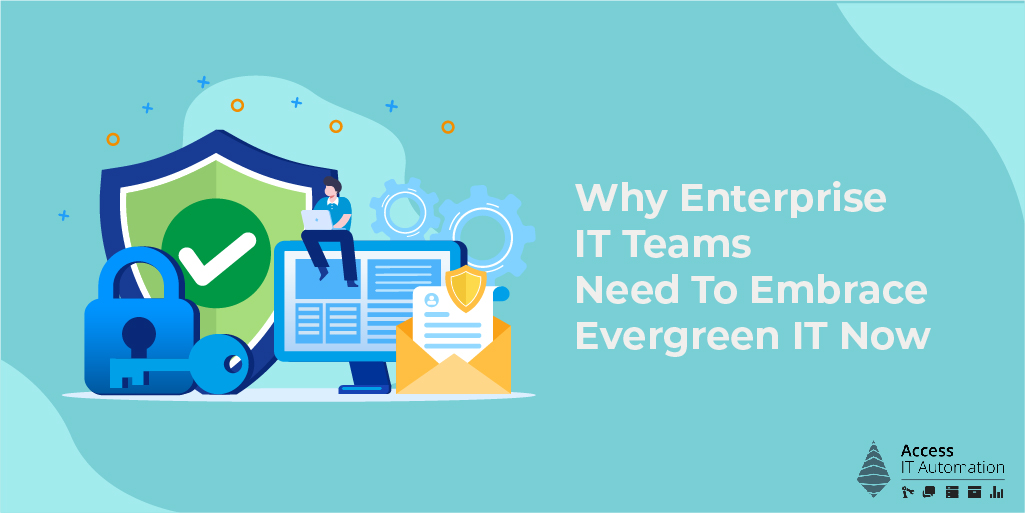 Why Enterprise IT Teams Need To Embrace Evergreen IT Now
Whether your organization is at the helm of Digital Transformation and is leading the way to becoming a truly agile company, or it is just finishing up a Windows 10 migration, you know the velocity of change has significantly increased over the last 5-10 years!
Long gone are the days when you migrated your entire user base to a new OS as a two-year big-bang project every 5-6 years! For most organizations, OS updates happen every 12-24 months and only take about 6 months to complete. The same is true for Office 365, but because of its shorter support windows, the cadence is 6-12 months for the majority of large enterprises. Some business applications, like Bloomberg, require monthly updates.
On the other hand, executive management is driving Digital Transformation which, for IT, means change must be implemented at lightning speed. Consumer demands are rapidly changing and the organizations that adapt the fastest win the race. To accomplish this, IT must be very tightly managed, always up-to-date, and nimble.
Thirdly, there are simply practical considerations driving the adoption of Evergreen IT: 68% of business leaders feel that their cybersecurity risks are increasing. The only way to combat this effectively is to keep your environment always up-to-date and in compliance. In addition, despite larger IT spend overall, IT teams have to stretch their budgets further than they ever have. It is essential to rationalize your IT environment to minimize licensing and maintenance costs.
Typical Evergreen IT Scenarios
For some organizations, implementing Evergreen IT simply means updating Windows 10 on a regular basis. For others, it means that their entire estate (from servers, infrastructure, and OS to applications and hardware) is improved continuously. Below, I will go through some of the common elements, but it is important to point out that the return on investment (ROI) of running multiple Evergreen IT processes simultaneously is significantly higher than that of running a single project.
Windows 10 Servicing. Microsoft now releases two Windows 10 versions every year: one in the spring (18 months support) and one in the fall (30 months support). Most enterprises aim to upgrade on each Fall Update, or they take a chance by skipping one year and updating every second fall.
Office 365 Management. Office 365 also receives two major upgrades per year in addition to the monthly minor updates. However, users on the Semi-Annual Channel (Targeted) only receive 6 months of support while Semi-Annual Channel users effectively receive 14 months of support.
Server & Infrastructure Updates. Certain Microsoft Servers and infrastructure, such as Microsoft's ConfigMgr (SCCM) and Microsoft Intune (now integrated as Microsoft Endpoint Manager) as well as Microsoft Windows 10 Server, follow the same support model with two releases a year and 18 months support.
Application Management. Many applications now have much faster release cycles ranging from monthly to twice a year or even as needed. To prevent apps from breaking due to application compatibility issues and to avoid having to manage multiple versions of the same application, IT must find a way to upgrade these as efficiently and risk-free as possible. This requires fast and reliable re-certification as well as automated app packaging and testing.
Hardware Refresh. Evergreen IT is also extremely useful for managing hardware refresh cycles. Rather than waiting for hardware to break or slow down, it gets replaced on a regular basis based on its lifecycle. This can happen using a Device-as-a-Service contract or by managing it internally.
Keep in mind that these are only the five most common use cases — there are plenty more.
Also it is important to consider what those different use cases mean for your organization. All of these areas are owned by various different internal IT teams. Sometimes, because of organizational structures, these teams don't work as well together as they probably should.
Because Evergreen IT projects run together have enormous synergies and efficiency gains, a re-org might need to be considered to enable a more agile, iterative process that fosters, not blocks ongoing change.
Evergreen IT Benefits
Now that we have looked at what Evergreen IT is, why enterprises should embrace it, and what typical use cases look like, let's talk about the benefits you can achieve with it.
Your IT environment will be tightly managed and always up to date.
Optimal capacity usage of resources — no big spikes followed by long dry spells of downtime
Minimized risk of business disruption as everything is set up as a continuous process
Budget stream becomes very predictable — you know exactly how much you will need to spend next month or in 6 months
Lower maintenance efforts and costs, e.g., Gartner estimates 79% cost reduction when upgrading well-managed environments compared to unmanaged environments!
Significantly decreases cyber security risks and results in fewer vulnerabilities
Reduced licensing and hardware cost due to tighter management
Less Shadow IT and application sprawl as Evergreen IT positions your IT organization as a central service provider
Better end user experience resulting in end users supporting you and volunteering to upgrade instead of resisting and blocking you
Faster access to new features, a better user experience, and fewer interruptions lead to higher productivity and revenue.
Evergreen IT Challenges
While there are many more benefits than those listed above, there are, of course, also challenges with implementing Evergreen IT. For example:
It requires dedicated resources and budget despite what others say.
Evergreen IT doesn't just happen — it requires initial one-time organizational/set up effort as well as ongoing maintenance and improvements.
It must be supported through the right tooling, people, and processes.
You will have to undergo an initial set up process, e.g., inventory, normalize, rationalize, and categorize your application and hardware estate.
You will need an agile mindset and the willingness to tune and improve.
You will need to consider a tight rollback plan or consider exclusions to upgrade. Most enterprises only have a forward thinking plan, but they ignore these stalemate moments that happen all the time.
The Keys To Success: The Right Tooling, People, & Processes
Now that we have talked about the basic concept and its benefits and challenges, let's have a closer look at the implementation of Evergreen IT from a practical standpoint.
To accomplish the above, you will need a central management console that can tell you these are the laptops that have to be replaced, the apps to be repackaged, the users to be upgraded, etc. When you think about it, it quickly becomes clear that an Excel sheet and traditional migration project management won't cut it.
You need project management tooling that holds one central version of the truth, is live connected to all your systems (meaning real world updates are reflected automatically in the system), and lets you centrally manage all moving pieces.
Microsoft's Deployment Ring Approach As A Visualization Of What An Evergreen IT Process Could Look Like
Speaking of processes, a lot of enterprises struggle with figuring out the right and practical way to implement this. While there is not ONE right way, Microsoft's Deployment Ring Concept is one best practice used to migrate tens or even hundreds of thousands of users in various organizations successfully.
Essentially, you start by testing with a very small group, and then spread out from there before migrating the vast majority of your business users and VIPs.
Preview, evaluate, and test upcoming functionality as the Windows Insider Preview gets released (few people within your IT team).
When the latest Windows 10 update is released into the Semi-Annual Channel, your IT Pilot Ring (small group of IT pros) will migrate first.
Next, migrate some tech-savvy friendlies (business users) as part of the Business User Pilot Ring.
Now, break your Broad Deployment Ring into rollout waves of appropriate size and upgrade your business users.
This way, you can test new upgrades on 5% to 10% of your entire user base first, allowing you to iron out any kinks you might encounter. This reduces the risk of disruption significantly.
5 Best Practices To Keep In Mind To Successfully Implement Evergreen IT
#1: One-time Set-up vs. Repeatable Tasks
The vast majority of enterprises has migrated to Windows 10 with little regard for what legacy their migration team is leaving their Business-as-Usual team. Once handed over, the BAU team is not only left with minimal resources and budget earmarked for the ongoing evergreen activities, but is also left with nothing to set up a process to manage it all. This is a huge pitfall that a lot of organizations will struggle with the next 12 months.
While Evergreen IT, by definition, is an ongoing iterative process, it might come as a surprise that you will need to undergo some serious one-time setup work as the first step. For example, you will need to:
Thoroughly spring clean your applications, hardware, and infrastructure to minimize different versions and duplicates, to know exactly what you have currently in-house and the state of it, etc.
Define your Evergreen IT project framework parameters, e.g., your hardware and application lifecycle management guardrails, your communication preferences with end users, your security policies, etc.
Define your Evergreen IT process. This means answering questions like: How will the budget get approved each time new hardware is ordered as part of your hardware refresh? How will you manage the purchasing process? How will you test and possibly repackage your applications (and how many) when moving to a new OS?
Determine what type of tooling you will use to manage your Evergreen IT process.
Discover any possible business process optimization opportunities before automating the many tedious and labor-intensive tasks.
Essentially, you will have to think through the entire process and get yourself set up.
#2: Create A Scalable, Repeatable, And Automated Process
The reason why subscription boxes and auto-shipments are so successful is because they are convenient, repeatable, scalable, and automated. Evergreen IT is the same. Every month, you will look at your log of tasks for that month.
It becomes imperative that your Evergreen IT management can grow with you over time. As you add more and more projects into your workstream (scalable), you can execute the same processes over and over (repeatable), while minimizing manual, resource-heavy, and costly workloads (automated).
#3: Aim For Full Speed Ahead
When defining your Evergreen IT processes, you should aim to get numbers on the board fast. While you might poke fun at the proverbial "lowest hanging fruit", your process should first focus on identifying the bulk of users, applications, and hardware that can be migrated the easiest before chipping away at the rest — in the same fashion and in iterative steps.
I know this is a departure from previous thinking where we might have tackled a certain location or department first or even gotten all applications tested and remediated before moving the first user. But with Evergreen, aim to migrate the first 50-70% of easily migrated users first and then determine what your next wave looks like that again focuses on the next easiest to migrate.
#4: Iterative Improvement Over Time
The process, as I have described it so far, might sound like a set-once-and-forget, but as with any agile development / SCRUM methodology, you should add in regular checkpoints to review your processes for possible improvements. Embrace the mindset that Evergreen IT is a learning process with the goal of iterative improvements and you will zoom into optimal performance very quickly.
#5: You Don't Have To Do It All At Once
Evergreen IT might sound overwhelming, but it actually is a very flexible and forgiving process. You can start small by just managing your Windows 10 Update process in an Evergreen fashion. Once you are comfortable, you can add Office 365 updates into the mix before you expand step-by-step into managing more and more work streams in parallel.
The good news is that it gets much easier with time once you have figured out a process that works for you. In addition, the return-on-investment increases drastically when you manage multiple projects at once, as opposed to just upgrading your Windows 10, for example.