Lately, there is a lot of talk about XLAs! No, not the Excel add-in but rather Experience Level Agreements between a service provider and a customer with the goal of providing the best employee experience with said provider's services.
Traditionally, software vendors had service-level agreements, or SLAs, which described expected minimum service levels that the service provider guaranteed (e.g., minimum uptimes or time to respond/repair issues) for the price someone would pay. Until now, SLAs were seen as the crucial measurement for a successful relationship between a software vendor and an enterprise IT department.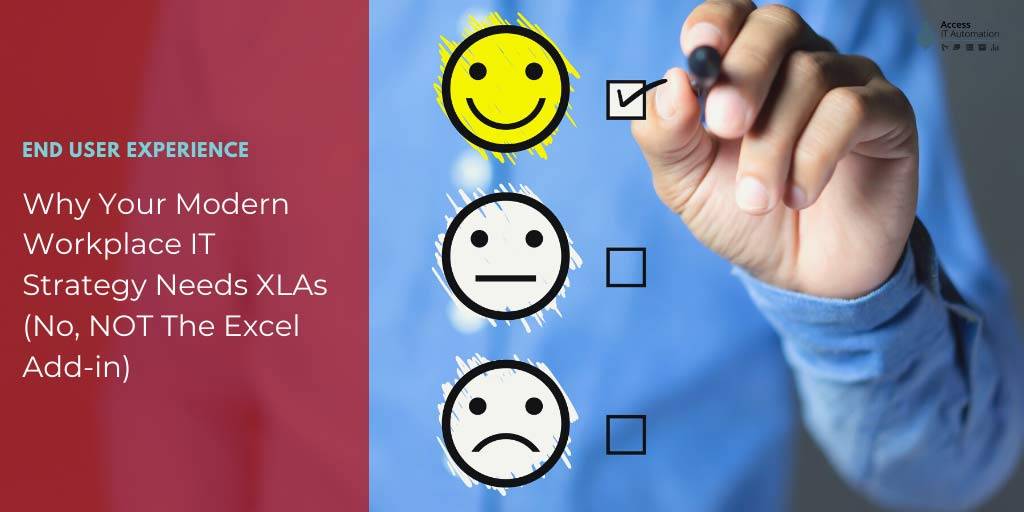 However, as the vast majority of organizations (large and small) are racing to win a competitive advantage by mastering the Digital Transformation game, expectations have changed. Minimums don't cut it anymore. A 99.99% uptime doesn't mean as much if your employees are only working at 60% capacity.
Numerous distractions in the modern workplace, combined with IT inefficiencies, cost organizations millions of dollars due to lost time and productivity. But they also lower employee satisfaction, which can lead to lower employee engagement and retention. And as companies become more customer-focused, innovative IT organizations are emphasizing the experience of their customers, the organization's employees, over the pure service received.
Consequently, enterprises are redefining their KPIs from generic, high-level metrics like uptime to employee-centric metrics like efficiency, speed, and other performance indicators that the company feels is important for employee engagement and satisfaction.
Based on whatever metrics the provider and customer have agreed upon, a scoring system is created, and those measurements are used to ascertain how much value the customer is receiving and where there is room for improvement.
Will XLAs Replace SLAs?
One of the first questions customers ask us is whether or not XLAs will replace SLAs. No, XLAs are not replacing SLAs and here is why: SLAs define the technical details of service received while XLAs focus on items relating directly to end-user efficiency and satisfaction, e.g., keystrokes, boot times, processing speed, number of crashes, etc.
Without SLAs, XLAs couldn't exist — so just visualize XLAs as another KPI layer on top of the SLAs. Just like SLAs, XLAs aren't based on a set formula, and each company will determine what metrics will lead to success.
XLAs For The Modern Worker
With Millennials now accounting for the largest section of the workforce and Gen-Z just entering the workforce, working environments and conditions are expected to change drastically. Going to the same office for 8+ hours a day, 5 days a week, is not something that these generations strive for. Working remotely from home, at co-working spaces, or going to different office locations is preferred.
For remote workers, the guaranteed office uptime metric has little to no meaning. Instead, metrics like accessibility to apps on the network and having a smooth device experience are important.
What Other Pain Points Can XLAs Help With?
One of the biggest pain points XLAs can help with is employee engagement. A joint study by The Conference Board, Sirota-Mercer, Deloitte, ROI, The Culture Works and Consulting LLP showed that disengaged employees cost U.S. companies $550 billion a year, yet companies with highly engaged teams show 21% greater profitability.
Additionally, organizations can implement XLAs to significantly reduce the frequency and impact of technical distractions that an employee faces at the office. This can be done with endpoint management automation tools, like Access Agent. For instance, if a device's resources start to run too high, a notification can be sent to the user advising them to close certain programs, or the affecting program can be terminated automatically.
Another example is performance implications. As we discussed in an earlier post, IT infrastructure is one of the biggest hurdles enterprises will face in 2020. Enterprises were able to run 40 devices from a single server on Windows 7, and now they will need 1.5-2 servers for that same device load on Windows 10 due to the added complexity. With that in mind, organizations need to be careful before implementing a company-wide UX metric initiative (see next section for technical requirements).
There are many other scenarios in which enterprises can utilize XLAs, but the three mentioned above are probably the most common we have seen so far.
Implementing XLAs From A Technical Viewpoint
Deciding what metrics are important for an XLA will vary from company to company, but before any of it can be measured, an agent will need to be installed into the infrastructure to gather and report from all devices.
Since UX analytic software works to report data from the desktop level up to higher servers (with backups), some agents might require up to four (4) additional servers to be installed just for creating a POC (Proof of Concept). This is on top of your already existing servers, for instance, where you are running tiered SCCM servers — master, child, duplicate, etc. This will put even more stress on your already stressed infrastructure.
In contrast, Access Agent was designed to be a lightweight tool that is customizable for your business goals, integrates with already existing infrastructure, like SCCM, and can be installed without additional servers for a POC, and for full implementation, on your IT environment.
XLAs In Conjunction With Evergreen IT And IT Automation
There are more than 900 million devices (and growing) running Windows 10. The three main reasons why companies have already made the switch are:
Digital transformation – Usually mandated by the CEO or other C-suite executives, to gain a competitive advantage
Customer centricity – Enterprises are focusing more on their customers' and employees' needs and wants for higher satisfaction and retention levels
The ever-increasing velocity of change due to cloud computing and the X-as-a-Service model – The days of having a version of software last for 3-5 years without updates are gone, as now new feature updates, security and critical updates come out regularly throughout the year.
These goals can only be achieved with an organized Evergreen IT management approach, with IT automation wherever possible to increase speed & efficiency, and with a constant, persistent focus on end-user experience. Rather than seeing all three as separate entities, organizations need to fuse them into a cohesive approach for maximum benefits.