On September 30th, 2019, Microsoft's Brad Anderson announced that Windows Virtual Desktop, Microsoft's new cloud-based desktop and app virtualization service, is now generally available worldwide. It has been in public preview since March 2019.
The promise of Windows Virtual Desktop is to "deploy and scale your Windows desktops and apps on Azure in minutes" by delivering "simplified management, multi-session Windows 10, optimizations for Office 365 ProPlus, and support for Remote Desktop Services (RDS) environments", according to the statement.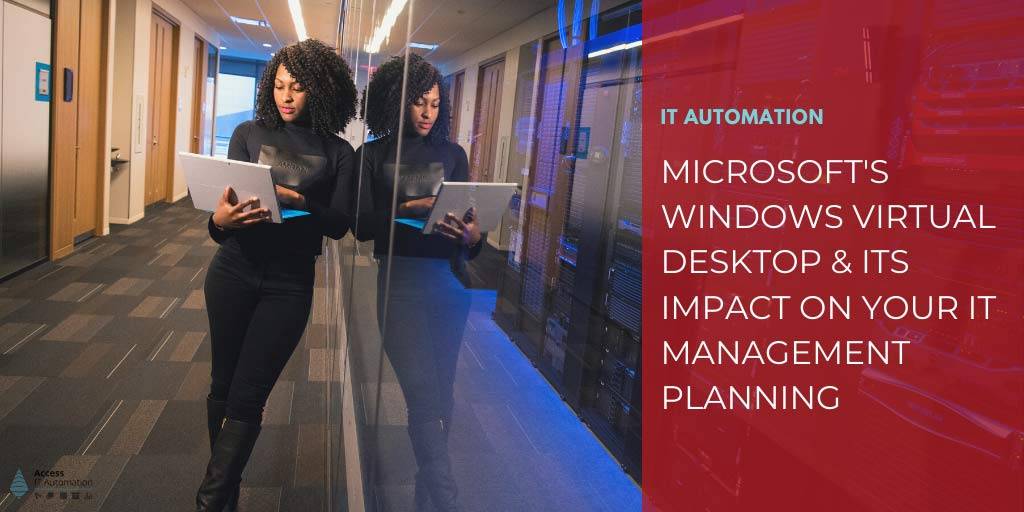 Much of the Windows Virtual Desktop offering was built on tools acquired in November 2018, when Microsoft snatched up the app-provision startup FSLogix. Microsoft quickly integrated all tools, creating a smoother and better performing Office virtualization experience because of its faster load times for non-persistent users accessing Outlook or OneDrive.
In other words, you can hook your employees up to virtualized desktops as long as they run on Windows, Android, Mac, iOS, and HTML 5. But this announcement could have further implications for your long-term IT management planning. Let's have a closer look:
It Might Buy You Some Time If You Aren't Going To Make The Windows 7 Support Deadline
While most enterprises have migrated (or at least are in the process of upgrading) to Windows 10, there are still about 30% of desktops worldwide on Windows 7. Since the end of support for the decade-long operating system is in just a couple of months, the general availability of Windows Virtual Desktop might have come at a good time.
Brad Anderson said, "With the end of extended support for Windows 7 coming in January 2020, we also understand some customers need to continue to support Windows 7 legacy applications as they migrate to Windows 10. To support this need, you can use Windows Virtual Desktop to virtualize Windows 7 desktops with free Extended Security Updates (ESU) until January 2023."
While customers could get Windows Virtual desktop directly through Microsoft, the company is also making it available through several Cloud Service Providers (CSPs) and various partners, such as Citrix and VMware. Citrix will support multi-session Windows 10 experiences, Windows 7 with free Extended Security Updates until 2023, and Windows Server 2008 R2 with free Extended Security Updates on Azure effective immediately. Microsoft has also announced that VMware will do the same later this year.
It Could Positively Impact Desktop-as-a-Service
In March 2019, Microsoft mentioned as part of a public preview announcement that "Microsoft Cloud Solution Providers (CSPs) will deliver end-to-end desktop-as-a-service (DaaS) offerings and value-added services to their customers" using the Windows Virtual Desktop service. While there was not any direct mention of a specific offering just yet, the software giant said that they are engaged with system integrators and hardware vendors to provide turnkey desktop-as-a-service (DaaS) offerings.
Based on Microsoft's ominous promise of further announcements in the coming months, a lot more about these partner offerings can be expected to drop into the marketing very soon — creating a huge opportunity. Windows Virtual Desktop is also likely to appeal to businesses that require increased flexibility, have a large number of temporary or project-based workers, and are therefore considering Microsoft's Desktop-as-a-Service offering.
Simplified Licensing Requirements Could Lead To VDI Mass Adoption
Another benefit is that it lowers the cost per user as you can run a Windows 10 virtual machine with multi-session enabled with several employees now having access to a virtual desktop. Because of its Reserved Instances multi-session Windows 10, Windows Virtual Desktop also simplifies licensing requirements. You will need an Azure subscription to deploy and manage your virtualization environment.
If you have Microsoft 365 F1/E3/E5, Windows 10 Enterprise E3/E5, or Windows VDA, you won't be charged additionally for accessing Windows 10 and Windows 7 desktops and apps.
If you are already a Microsoft RDS Client Access License customer, you can also access Windows Server desktops and apps without extra charges.
This could lead to more enterprises considering Windows Virtual Desktop for their environments even if they previously shied away from Virtual Desktop Infrastructure (VDI) due to licensing complexity concerns and the user experience and performance.
MSIX App Attach Is Coming With Windows 10 20H1
Last, but not least, Windows Virtual Desktop is setting out to simplify application delivery through what is known as App Attach. Essentially, with WVD, MSIX packaged apps can be "attached" dynamically (as the user needs them) to a virtual machine rather than having to install them permanently — which, of course, significantly decreases storage and makes app management and updates easier while creating seamless user experiences.
MSIX is Microsoft's third generation approach to help customers embrace its store with pre-loaded apps. Standard practice is and always will be MSI. Recently, Microsoft's first two attempt (UWP apps and then AppX, a fusion of UWP/App-V), were replaced by MSIX as Microsoft embraced a more modern container style approach. This third-generation supports all Microsoft styles and mechanisms for packaging in a forward-thinking way.
This could prove to be a key puzzle piece in separating user data, applications, and the OS, and provides a glimpse at how Windows is evolving more and more into a hosting platform for virtualized applications! Insider testers of Windows 10 20H1 will most likely see a preview of MSIX App Attach in their new Windows 10 test build soon.
Microsoft: More To Come Soon
There is no doubt that enterprise IT management will need to keep a close eye on the developments in the coming months as the evolving Windows Virtual Desktop is doubtlessly a great indicator of what is to come in terms of a larger Windows and VDI strategy context! Microsoft promised to "rapidly innovate and invest in desktop and app virtualization" and I have no doubt that over the coming months there will be a lot more to come.
If you have test-driven this new technology or are planning to do it soon, we would love to hear from you. Please comment below to share your experience or thoughts regarding the Windows Virtual Desktop announcement, the App Attach technology, and Desktop-as-a-Service.